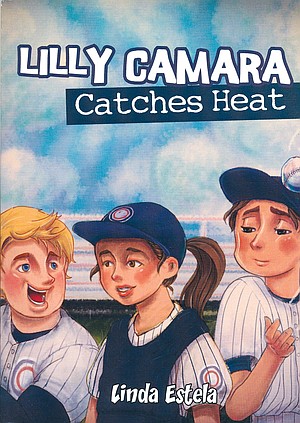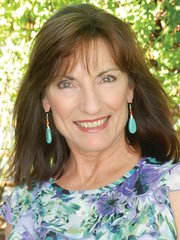 The first in a proposed series of six, "Lilly Camara Catches Heat" by Linda Estela, introduces the reader to an energetic 12-year-old baseball nut and her friends, family and teammates.
The conflict in the story comes from a new boy in town who rivals Lilly's best friend Cole in the pitching department and has a crush on Lilly. Our main character has to navigate the uncomfortable minefield of a blossoming social life while still helping her team to the championship.
This was an excellent read. While clearly aimed at a young audience, the characters come alive from almost the first sentence, as Lilly waits for class to end so she can get out and practice baseball. Each character is distinct, living their own life and not just serving as plot devices for the main character.
The story is told from Lilly's point of view in first-person narrative. She is incredibly funny at times, making observations on her life and what is happening around her. She has a 12-year-old perspective: for example, an upcoming dance seems like the end of the world to her.
The book gently tackles a number of different issues, giving children a good role model while not ignoring the depth of emotions a child can run through at that age. It's definitely a fun read, and a good book to give to any child.
The author, Linda Estela, has lived in Selah for the past 20 years, and raised her children there. Her daughter's love of baseball was the inspiration for the
series.
"My daughter was Lilly, literally," said Estela. "People thought she was a boy."
Estela said Lilly's story was in her head for a long time before she started to write the story. She had been published before, both fiction and materials related to her job.
"I was busy being a mom and working full time as a nurse," she said. "I tried to chase the story out of my head, but it wouldn't go."
Her children, Adam and Ceci, encouraged her to write it down. Both of them are now in college, but Ceci, upon whom Lilly is based, helped with some of the baseball lingo.
"I was inspired by my daughter," said Estela. "She played so well and so fiercely. I was in awe of her."
Estela wasn't much of a baseball fan until her daughter played, but she said she really enjoyed going to her daughter's games. She said Lilly's path may follow her own daughter's path. Each book will cover a single season of baseball, up until Lilly's senior year of high school.
"A big question of the series, will she be allowed to play baseball with the boys in high school?" said Estela.
The book has been well-received, according to Estela.
"People seem to find a character to relate to, I love that," she said. The characters reflect the reality of society. Like Ceci, Lilly herself is half Hispanic and half Caucasian.
"So much of our community is mixed," said Estela. "It seemed realistic."
Estela said she is always thinking of stories, no matter what she's doing.
"I'm a person who, from childhood, spent a lot of time alone," she said. "I go through life with a story in my head. I may look like I'm doing my job, but there's a story there."
She said she wasn't sure how she would handle being an empty-nester, but found that Lilly and her group of friends have helped fill the gap left by her own children. Estela is already six chapters into the next book in the series.
People who want to pick up a copy of "Lilly Camara Catches Heat" can find it at Inklings in Yakima or on Amazon.com.
Estela will be at the Selah Civic Center Spring Bazaar on Saturday, May 3, signing books. She also plans to make an appearance at the Barnes & Noble in Kennewick on July 12.