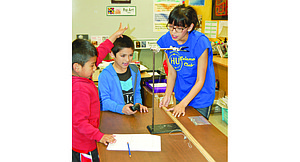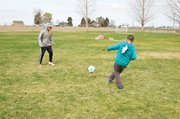 OUTLOOK – School's not in session, but students in Outlook have been able to spend several days this week at Outlook Elementary having fun while learning along the way.
Outlook Spring Break Camp is sponsored by Northwest Community Action Center as part of the Stand Up for Outlook initiative. The camp gives kindergarten to fifth grade students a place to come and play and be with other students.
On the opening day of the program this past Tuesday, children rotated through a variety of activities, including outdoor soccer and volleyball camps along with interactive lessons on nutrition and science. Volunteers from Sunnyside High School and Heritage University were on hand to teach and supervise.
An anti-gang and anti-drug program was presented by Ignacio "Nacho" Serna of Merit Resources, and Yakima Valley College Access Network provided a look forward to the possibilities of college attendance for program participants.
"We've had quite a few people come out," said Ron McClurkin. "We've had a good turnout and everyone is having fun."
The program was free for local youngsters. McClurkin said he would love to offer it at other schools, but he just doesn't yet have the funding.
"We had a few students from other schools in the district show up," he said. "We won't turn kids away."
In addition to the first day events, a climbing wall was scheduled to be on-site today (Thursday), along with other special guest presenters.
"It's a lot of fun," said McClurkin.
The three-day spring break program was open to Outlook students from 8:30 in the morning until 2:30 in the afternoon Tuesday through Thursday of this week.