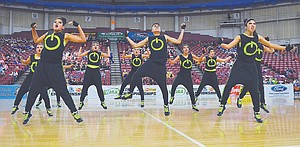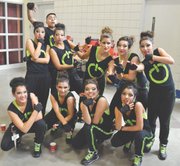 YAKIMA – Living up to its theme of power, the Grizzly Dance Team was indeed "on" with an impressive performance that garnered second-place honors at the Dance/Drill State Tourney at the SunDome last Saturday.
"Our theme is power and what better symbol than the 'on' button?" Coach Nicole Rounce said of her team's outfit design.
The Sunnyside High School dance team powered its way to a judges' score of 272.5 points in the State 1A/2A/3A hip hop competition, just behind champion Tumwater's 275 points.
More than 40 schools participated at State and Sunnyside was one of 13 teams that qualified for the hip hop competition. Tumwater, Sunnyside and Shorecrest (272 points) were the only three in that category to earn a "Superior" rating.
The other two CBBN schools in the hip hop competition were Southridge (seventh with 246 points) and Kamiakin (12th with 212.5 points).
In other State dance/drill tourney results, Tumwater also claimed top honors in the dance category, Hanford won the kick competition, Lake Washington earned first-place honors in the 1A/2A military routine and Decatur won the 3A military routine's top prize. Montesano, Capital and Hazen won the 1A, 2A and 3A pom championships, respectively.
Right after Sunnyside's performance and long before final results were announced, Rounce had a good feeling her team would fare well in the judges' eyes.
"This is the best performance we've ever done with this routine!" she yelled backstage in a sort of "kiss and cry" area set aside for teams to wind down after leaving the SunDome court.
Saving their best for last is no small achievement for the dance team, which has worked on this routine since last June.
"I think we did amazing!" added SHS dancer Ebony Chavez. "It was really exciting to do our best and leave it on the floor."
It was a sweet moment for senior dancer Stefani Anciso.
"We've worked so hard on this," she said. "I feel so amazing because it was my last time and we nailed it."