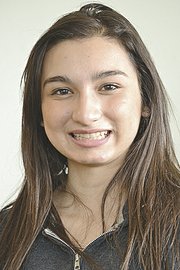 Age: 18.
Spouse: N/A.
Children: N/A.
Occupation and place of work: Student at Sunnyside High School.
My favorite part of the Yakima Valley is... the changing seasons.
When I was a child, I wanted to grow up to be... a fashion designer.
First job I ever had was... a waitress.
If a movie was made of my life, the actor/actress I'd want to play me is...
Emma Watson.
The best gift I ever received was... seeing the joy of kids receiving Christmas trees.
The best piece of advice I ever received was...to just believe because everything happens for a reason.
My favorite dessert is... Tia Landa's brownies.
One of my most memorable moments, besides getting married or having children was... when my dance team took first at State.
If I could witness any event past, present, or future, I would want to see... the Titanic.
I'd love to learn how to... snowboard.
The furthest I have been away from home is when I went to... Indiana.
My favorite leisure activity or hobby is... dancing.
If I didn't have to worry about money, I'd spend my time... traveling.
The one word that best describes me is... determined.
If I could change one thing about myself it would be... can't think of anything.