Friday, September 27, 2013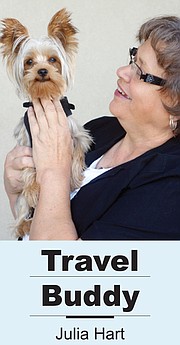 Buddy is a dog - at least I think he is. Since arriving quite unexpectedly in my lap last May, the feisty, but happily rescued Yorkshire terrier has been a loyal, self-centered, demanding companion.
I am sure he knows a lot more than he lets on. At least I think so, if those disapproving looks he is prone to casting my way are any indication. Of course, those looks may be unspoken demands for dog-gie treats. I prefer to believe they are looks of understanding and agree-ment with my off-the-wall opinions. He barks and dances around when he wants food. So yes, I believe he is agreeing with me when he just stares at me.
Buddy came into my world via my friend Barbara, who knew I was in search of or perhaps just in need of a new canine companion.
You see Mister, my good and faithful sheltie, had died a little over two years ago after 13 years of steadfast devotion. Until I held Buddy I hadn't realized how much I missed Mister's quiet, peaceful presence at my side.
Buddy is never quiet, but he is always at my side. Buddy is rarely, if ever, real-ly calm. He is loyal and protective, just ask anyone who tries to sneak up on me. If he thinks I am threatened Buddy goes into high alert. It's a scary sight. Weighing a mere six pounds soaking wet, he can leap four feet into the air while barking incessantly. He is a sight to be admired when he gets started.
I think I fell in love with Buddy because he has an opinion. In fact, he has thoughts about everything that goes on in our little world. I know we share many of the same ideas about life and like me; Bud-dy is ready to share those thoughts.
So this week, Buddy and I are launching on an adven-ture to share our opinions about the state of things.
Take, for example, cats.
Buddy doesn't like them. I think they are okay, if they stay outside. Buddy doesn't like them in our yard, never mind letting them in the house. He goes on high alert when our four cats invade the house.
We're working on that.