Thursday, September 26, 2013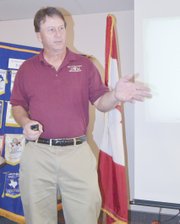 Veterinarian Scott Abbott believes the local agricultural industry has much to offer the world. That's why he aims to help dairymen around the globe learn practices and obtain skills that will help dairy farms become more efficient and productive.
Abbott at Wednesday's Sunnyside Daybreak Rotary Club meeting said there are many visitors to the Yakima Valley who are interested in local farming practices.
That's why he and part-
ner Kevin Bousquet operate Global Training Center. Dairymen from around the world take advantage of the training the center offers.
Abbott said the Prosser center has trained dairymen from Europe and Asia. The dairy farmers go to the training center to learn techniques that will help them in their own operations.
Trainers with Global Training Center also travel to dairies abroad to help dairy operations there.
Recently, Abbott traveled to Russia to provide training to a large dairy operation there. A man who owns a dairy plant and several dairies contracted with Abbott's firm, wanting to increase milk production.
While in Russia, Abbott learned traditional dairy farming involved small, dark quarters for the cows. The operations were cavernous and parlors antiquated.
The dairy operator has been transforming the dairies he owns, installing modernized equipment and updating facilities.
When training staff at operations like the one in Russia, Abbott told the Rotarians he has learned it is important to train in small groups as well as larger groups.
Abbott said, "There is an emphasis on the exchange of information."
He said there can be a lot of knowledge exchanged between cultures and often people use certain practices out of habit.
Learning different practices can benefit any culture.
"Not everything we do is right…not everything they do is right," said Abbott.
He said there is one thing he has come to appreciate more than anything in his travels…"There's no place like home."