Friday, September 20, 2013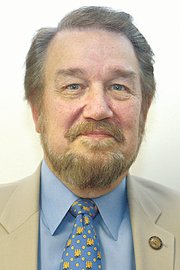 Without sounding arrogant and keeping consistent with the Word of God, let me begin today by saying that I am a son of God and an heir and joint-heir with Jesus Christ. In other words, I am a Christian. There are no qualifiers or caveats to that statement.
That said, let me explain.
I am not a Pentecostal Christian. I am not a Methodist Christian. I am not a Presbyterian or a Lutheran or an Episcopalian or a Catholic or a Baptist Christian. You understand, right?
I am simply a believer - a Holy Spirit-filled believer - in the Lord Jesus Christ. That makes me a citizen of the Kingdom of God. It matters not whether a person is a Catholic, or a Baptist, or a Mormon or a member of some interdenominational fellowship, or whatever.
O.K., now! Don't look at me in that tone of voice! Pay close attention to what I'm saying.
For centuries the body of Christ has deliberately bred into its culture a kind of religious racism which, in turn, has become de rigueur for our societies around the world. We tend to distinguish ourselves on the basis of a set of doctrinal ideas, philosophies or denominational code.
We "denominationalize" ourselves instead of following Paul's admonition and rebuke in his first letter to the Ekklesia in Corinth: "Now this I say, that every one of you saith, I am of Paul; and I of Apollos; and I of Cephas; and I of Christ. Is Christ divided? was Paul crucified for you? or were ye baptized in the name of Paul?"
Yet this is exactly what we do.
If I say that I am a Pentecostal, I've just separated myself from so-called "non-Pentecostals" and classified myself as being more "special" than they are. If I say that I am a Presbyterian, I distinguish myself apart from Baptists or Reformed Christians as though my relationship with Jesus Christ as a Presbyterian is somehow of a higher order, and that I have laid hold of a place in God that the Baptists or the Reformed Christians (or those other brands of Christians) don't have. When I set myself apart like that, I am practicing racism.
Let's talk about racism at its core for a moment. Racism is nothing more and nothing less than exceptionalizing one's race or creed or genetics (or religious affiliation) with an exclusivity that gives oneself priority in recognition above those of some other race or nationality or background.
Does that explain it sufficiently? Racism, you see, is totally based in fear.
If you fear being treated as substandard because of your national heritage, you refer to yourself as - for example - an Irish-American, or, an Italian-American, or, a Mexican-American, etc., etc., etc. Your fear is based either in the spirit of the Fear of Man, or even the spirit of the Fear of Death.
On the other hand, if you have an unholy fear of God and you've been taught the kind of fear that says if you don't perform up to certain man-made standards extracted out of context from various verses of Scripture, then you live a "religious" life attempting to please God by meeting these performance standards.
Your fear is based in the Fear of Evil. The Fear of Evil is a demonic spirit which attempts to force a set of performance standards on people and, in the process, excludes one's living a life totally based in a love-relationship with the Lord Jesus Christ. It breeds religious racism - a separatism and exclusivity that says in effect, "I'm better than you."
I have a fear of God, but it is not a terror-based fear; it is an awe, it is reverential and absolutely respect-based. My relationship with the Lord is based in total and uncompromised love for Him, and an honoring of the price Jesus paid in order to restore the communion lost between God and man when Adam and Eve ate of the fruit of the Tree of the Knowledge of Good and Evil in the Garden.
Because I love the Lord with every cell of my being, everything I do is focused on fellowship with Him. Put another way, I don't worry about trying to keep the 10 Commandments. My life is not law-based; it is love-based. Is this making sense to you?
Now, let's bring this back to the kind of social racism being practiced here in America and world-wide. Let me first say that our family is about as multi-racial as you can get. My son-in-law, Anthony Picasso, never refers to himself as Mexican-American. He considers it an insult.
"My grandparents came over from Mexico because they wanted a better life, and America offered them the kind of life they couldn't get in Mexico. Our family became American. We are proud to be Americans," he says. "My heritage may be from Mexico, but we are no longer Mexicans, and we don't try to hang onto that way of life or pretend that it somehow needs to be fused into us as Americans."
My maternal grandparents migrated from Finland back in the 1920's. They never once referred to themselves as "Finnish-Americans." They became Americans, PERIOD!
Della and I have two grandsons whose father was a black Baptist preacher's son. He never referred to himself as an "African-American," and neither Cyrus nor Travon call themselves African-American.
We have two adopted half-Eskimo daughters. Neither of them refer to themselves as Eskimo-American, or conversely, "Native American."
Della's heritage is Cherokee Indian, but you'll never hear her distinguish herself as a Native American.
By now, you get the picture! Our family is a real melting pot of races, but we are one family: the Capener Family. And every one of us are Americans!
I want to take this subject farther, and I'll do that in a Part 2 in the weeks to come.
‑ Regner A. Capener is senior pastor of the Lower Yakima Valley River Worship Center.