Thursday, September 19, 2013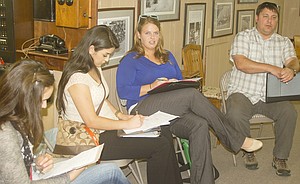 After just a few weeks on the job, Sunnyside Parks and Recreation Coordinator Megan Razey feels like she may be making headway in sorting out the defunct city recreation program in order to make it open to the entire community.
Razey told the Sunnyside Parks and Recreation Board at its Wednesday afternoon meeting that it has taken some time to sort through the recreation department's supply of sports equipment.
"We have a lot of softball and baseball equipment, but we will need new balls as well as other sporting equipment," Razey told the board. She hopes to have the spring softball program ready to launch early in 2014.
Razey has also been sort-ing through boxes of materials in order to update waiver and consent forms and has been busy sorting out which of the depart-ment's previous programs are still viable.
"I'm not ready to launch a program, but I am closer," she told the board.
Razey told the board her first community activity at the Sunnyside Community Center will be a family night to be held on Thursday, Oct 24.
"We are planning a quasi- open house with a Hallow-een theme," she said.
"There will be pumpkin decorating and refresh-ments," Razey announced.
She said in a few days she hopes to be able to reinsti-tute the open gym times at the community center.
"We are waiting on some background checks for vol-unteers to oversee the pro-gram," she explained.
Razey said one of her main focuses will be to en-sure "…we have good programs, open to all mem-bers of the community.
"Our goal is not to create competitive programs, but fun programs where the youth of the community can learn skills of the games and life lessons," she said.
"Even more importantly, we are here to help parents be more involved in the pro-jects with their children."
On a budgetary note, Razey said some changes will need to be made to the recreational program fee structure in order to help make the program sustaina-ble.
"We need to seriously look at increasing some of our fees," she told the park and recreation board.
She said she, along with Shane Fisher, city public works superintendent, are assessing the city's recrea-tional equipment and looking at ways to restruc-ture its budget.
Following the board meet-ing, the board took a tour of the Sunnyside Museum, which recently has under-gone upgrades to address American Disability Act requirements for public fa-cilities.
The new additions were complicated by the museum board's desire not to damage or change the integ-rity of the historic building.
The park and rec board said it was pleased with the completed changes. The museum now has a new enlarged public restroom, as well as a wheelchair ramp on the east side of the build-ing.
Julia Hart can be contacted
at 509-837-4500, or email
JHart@DailySunNews.com