Thursday, October 31, 2013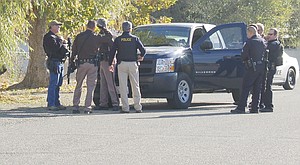 GRANDVIEW – A young man who allegedly threatened two Grandview students yesterday, resulting in school lockdowns in both Grandview and Mabton, was captured last night, according to police.
Mabton Police Sgt. Cas Cedillo said the 20-year-old suspect, a Mabton resident, was taken into custody after a search by multiple police agencies yesterday. Grandview police confirmed that a suspect was captured and said the case has been turned over to Yakima County for prosecution.
Grandview School District Superintendent Kevin Chase said the incident started yesterday at about 12:25 p.m. when a woman received a text message threatening her sisters, students at Grandview Middle School.
The family of the students arrived at the school and notified officials, according to Chase. The school was put into lockdown and all other schools in the district were put into "Safety Alert" as a precaution.
Because the suspect resides in Mabton, police there were alerted to the threat. As a precaution, Mabton also put its schools into lockdown while police searched for the suspect. Several police agencies converged on Mabton to join the search, including Grandview police and Yakima County Sheriff deputies.
No information is currently available on what charges the suspect faces.
Yesterday, Grandview police also investigated a burglary report from the 1000 block of West Fifth Street. An Xbox game console and television were reported missing.
Grandview officers also responded yesterday to two automatic alarms, a report of an animal problem, a report of a runaway juvenile, a court order violation, a report of assault that turned out to be unfounded, two reports of suspicious activity, a fire service call, three traffic incidents, a domestic problem and two agency assists.