Wednesday, October 30, 2013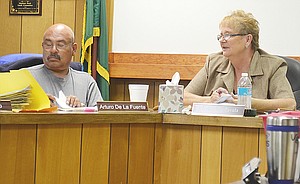 MABTON – It's already effectively 2014 for the Mabton City Council, which last night unveiled preliminary budget numbers for next year.
The figures discussed Tuesday night reflect a proposed 2014 general fund budget of $772,157. That's down from the general fund budget of $1.08 million set aside for 2013.
The general fund covers much of the city's day-to-day operations, ranging from parks to emergency services.
Nearly half of the proposed 2014 general fund budget is for law enforcement ($319,864), and the next largest item is parks ($113,433).
City Clerk Ret Stewart provided copies of the budget to council and told members she feels the city is facing a "manageable" budget for next year.
The other sizeable fund Mabton has to account for next year is the water/sewer budget, which is set for $649,353 in 2014 according to preliminary figures.
Also discussed last night is coming up with a preliminary list of one-time projects to consider for next year.
Among them is a new roof for the police station, which is leaking.
One big ticket item the city is definitely looking to buy is a generator to ensure water supply for citizens during power outages. The city is in the process of seeking bids for a generator.
In other items related to the 2014 budget, the Mabton City Council last night approved its assessment of $1,422 next year as a member of YVCOG and an annual fee of $500 for a service contract with the Yakima County Development Association.
The city council held a public hearing last night to gain input on the budget process but there were no takers.
Following a second hearing last night, on increasing property taxes by 1 percent, council approved the measure. The total property tax levied in the city will be at $157,452 in 2014, up by $1,215 over those collected this year.
Last night was essentially a first step towards finalizing a budget for 2014.
The Mabton City Council will hold a second budget hearing on Tuesday, Nov. 12, at 6 p.m. It also has set a special budget session for Wednesday, Nov.13, from 6 to 8 p.m.
Both meetings will be at Mabton City Hall.
--John Fannin can be reached at 509-837-4500 or by e-mail at jfannin@dailysunnews.com.