Tuesday, October 29, 2013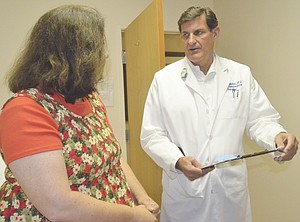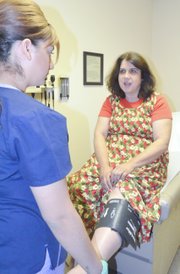 There are number of health concerns that greatly impact daily living for people from all walks of life.
What some don't know about their health may hurt them.
Dr. David Shoemaker of Specialty Center Surgical Group in Sunnyside believes it is important to check out one's "plumbing" to ensure overall health and well being.
He obtained vascular surgery training to help community members, especially those with cardiovascular problems that can be detected in the legs.
Leg pain, numbness, tingling and sores on the feet can be symptoms of peripheral arterial disease. Shoemaker last month offered free screenings for local residents who have experienced issues with their legs.
The free screening event, Legs for Life, provided residents in the community the opportunity to have "the plumber look to see why the plumbing is occluded."
Shoemaker said, "I'm the plumber."
He said the event is of special importance to him because there is a large number of citizens locally who suffer from diabetes and other diseases that can contribute to peripheral arterial disease.
Shoemaker said evaluations like those conducted at Legs for Life were not available in the Sunnyside area until recently.
With diabetes, patients can suffer a narrowing of the veins in the legs.
Clogs, or occlusions, in the veins need to be opened for improved circulation and cardiovascular health.
"We open the clogs…sometimes with grafting, dilation or patches," said Shoemaker, stating the services he provides are most often outpatient.
Angioplasty is a catheter-based procedure used by Shoemaker to complete the different methods for improving circulation and cardiovascular function.
"Legs for Life was the launch of the vascular service," said Shoemaker, stating he plans to host a Legs for Life event annually.
"Arteries are like high-pressure water lines," he said, stating the veins are the waste system.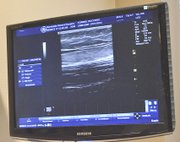 Offering vascular services locally keeps the patients close to home. It saves the patients time and money in familiar surroundings.
Other conditions that can be detected via the screening process include restless leg syndrome, varicose veins, leg pain, itching and leg fatigue. All these conditions can be detected when Shoemaker's staff takes the patient's blood pressure in both arms and both legs.
If there is a variance in blood pressure that causes concern, Shoemaker can use an ultrasound machine to map the arteries and veins to find occlusions and other issues contributing to a condition.
Approximately 60 patients were screened at last month's Legs for Life event.
"Legs for Life is a national campaign," said Shoemaker.
He said arterial sclerosis was one of the most common diagnoses at the Sunnyside event.
One patient had dangerously high blood pressure and was sent to the emergency room.
Shoemaker said the patient, as well as a few others, were unaware that they had an issue with high blood pressure.
"This is about saving lives," said Shoemaker.
Another event is already being planned for next September in hope of helping additional community members with their health conditions.
‑ Jennie McGhan can be contacted at 509-837-4500, or email
JMcGhan@DailySunNews.com