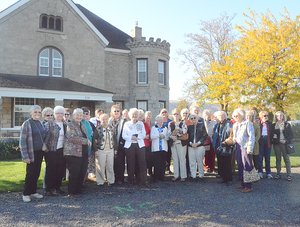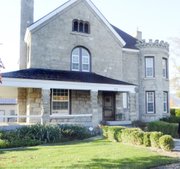 YAKIMA – There are three historic castles situated in Yakima and Union Gap.
Members of Sunnyside's Nouvella Club home life group yesterday (Thursday) visited two of these castles and learned about the women who had them constructed. They also learned some historical facts about the Congdon Castle, which is not open for tours.
Carmichael Castle
At the Carmichael Castle in what is now Union Gap, Louanne Stiltner talked about Elizabeth Carmichael. She had the home constructed in 1902 in Queen Anne style.
The bricks that make up the home's construction came from a quarry near Selah, said Stiltner.
Carmichael immigrated to the U.S. in 1884. She was born in Scotland.
The home she envisioned and had constructed has approximately 10 rooms, a turret and a basement.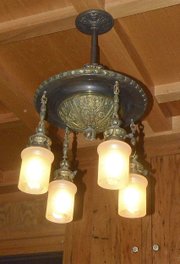 Stiltner said there is also a carriage house.
Carmichael, she said, earned her wealth through the ownership of Yakima Creamery.
Carmichael was described as an honest, progressive, courageous and plucky woman.
She was a young widow, who developed a business acumen selling cream and butter, owning a general store and serving as postmistress.
As postmistress Carmichael learned that many in the city of Yakima had been swindled by a man promising to build a creamery there. Knowing those who had invested in the business venture had lost their money, she decided to open the creamery herself.
Carmichael, said Stiltner, remarried. She married a local hop broker and the couple moved to California. The new marriage didn't last long because Carmichael's husband died shortly after the move.
Carmichael returned to her castle home in Yakima.
In 1905 she started a new line at the creamery, said Stiltner. That is the year that Carmichael Ice Cream was first produced.
The city of Yakima moved north, causing the creamery operation to make its deliveries four miles away. The drivers, said Stiltner, would race their horses and wagons to make speedy deliveries. When two collided on a bridge, causing significant damage, Carmichael decided it was time to move her business to the new city of Yakima.
Carmichael died in 1920 and her sons took over the family business, eventually opening a chain of Maid O' Clover stores throughout the Yakima Valley.
Carbonneau Castle
Carbonneau Castle, known to many current residents as the Findery, was constructed at the behest of Belinda Mulrooney Carbonneau in 1908.
She was born in Ireland and lived there with her grandmother until she was a teenager. That's when she moved to Pennsylvania to live with her parents.
Carbonneau was displeased with the living conditions near Scranton and was determined to strike out on her own, according to actress Sue Ellen Davis.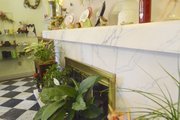 Davis, after studying Carbonneau's history, portrayed the pioneering woman to provide the Nouvella Club members a better look into Carbonneau's life.
Davis said Carbonneau made her fortune in the Klondike.
A teenager at the time that she departed from Scranton, she became a nursemaid to the wife of a shipbuilder in Philadelphia. She earned enough money to venture to Chicago for the World's Columbian Exposition in 1893. She invested in a space at the front of an exhibit operated by George Ferris, the inventor of the Ferris wheel. She was just 18-years-old at the time.
Carbonneau took the proceeds she made there to San Francisco, where she opened an ice cream parlor, according to Davis.
Davis said the owner of the building in which the ice cream parlor was located burned the building down for insurance monies. That left Carbonneau nearly penniless, so she embarked on her next venture working for a ship that happened to be owned by the very same shipbuilder who had employed her in Philadelphia.
Carbonneau became the buying agent for the Pacific Coast Steamship Com-pany and heard about the Klondike.
She purchased supplies and set out to take those supplies to Dawson after traveling over Chilkoot Pass. She sold the supplies, earning a small fortune for the time. She was 25-years-old and used her business acumen in anticipation of the influx of prospectors who would be traveling to strike it rich with the discovery of gold in the area.
Carbonneau, said Davis, purchased all the boats and built a number of cabins for those who would be seeking fortunes. She constructed the first roadhouse that would later become a hotel at Grand Forks.
As her fortunes grew, Carbonneau invested in gold claims, becoming a wealthy woman for the era.
She met and married Charles Carbonneau, who claimed to be a count, in 1900. He, however, was good at spending her money and getting himself into legal troubles.
Mr. Carbonneau in 1902 was indicted for salting mines and in 1904 he was imprisoned in France. Mrs. Carbonneau found nearly all her fortunes were gone.
She was able to obtain a divorce in 1906, but Mr. Carbonneau's legal troubles followed her.
"A gold strike took place in Fairbanks (Alaska) and she went into partnership with two other women…she found and staked claims and worked the claims," said Davis.
She said Carbonneau's business partners believed they were deserving of equal shares of the money from those gold claims.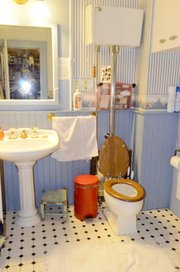 Carbonneau didn't agree and the partners sued her. "But they didn't get any of the money," said Davis.
Carbonneau's two sisters joined her in the Klondike and they opened the Dome City Bank. There was a bit more trouble with men and legal accusations before Carbonneau traveled to the Yakima Valley in Washington state.
There, she purchased an orchard and had a home built. Carbonneau recorded the land as belonging to her parents, according to Davis. She constructed it from funds she had placed in trust for her siblings.
So, when those former partners from Dawson attempted to stake claim to her money once again, she was able to keep them from obtaining anything.
The castle was constructed with two different turret designs. It is three stories tall and its original boiler is still used for heating the structure.
The home was visited by President William Howard Taft. It was a place for Carbonneau and her family to enjoy, although she never had any children. Instead, she enjoyed being surrounded by her siblings.
Carbonneau died in 1967 at the age of 95.
Congdon Castle
Congdon Castle is located south of Nob Hill Boulevard, surrounded by trees and mystery.
The Nouvella Club members learned the castle was constructed by Chester A. Congdon as a second home for his family.
The home features more than 80 rooms, 18 of which are bedrooms. There is an indoor swimming pool that years ago would drain the water from the well when it was filled.
According to the information provided, Congdon Castle was open to the public for a few years. In 1976 it was a destination for visitors to Yakima's bi-centennial project. The trolley line leading to the home was shut down in 1987.
The Congdon Castle remains in the family today. That family prefers its privacy, said Nouvella Club President Karen Jaquish.
‑ Jennie McGhan can be contacted at 509-837-4500.