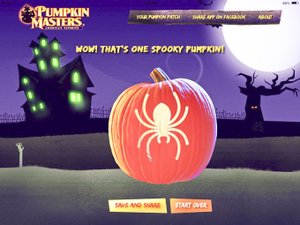 Apprageous
Daily Sun News App Review
I vaguely remember a long, long time ago there was a cigar TV commercial – that's right, back in the stone age when tobacco was advertised on the tube - that claimed, "They truly are masters at Dutch Masters."
Don't know why that stuck in my head, but the same can be said of Pumpkin Masters, a company that's been, well the masters in pumpkin carving for more than 60 years.
Pumpkin Masters has launched a free iPad app called the Pumpkin Masters Pumpkin Carving kit. It lets you create your own virtual carved jack o'lanterns to save as a photo to your iPad and/or to quickly share via Facebook.
It's quick and easy to use. Just pick what shape of pumpkin you like from the selection offered and select a pattern.
The app then hollows out the virtual pumpkin right before your eyes and places the pattern on the pumpkin. All that's left for you to do is rub your finger over the pumpkin to apply the pattern and reveal the final results.
The last step is when Pumpkin Master then lets you select a lighting effect to place inside your pumpkin.
You're free to save the pumpkin, share it on Facebook and/or add it to a pumpkin patch they offer you. The pumpkin patch is nice because it displays all the pumpkins created by you and your family and lets you go back in and edit them.
It's a great quick diversion during these days leading up to and including Halloween. One thing I like about the app is there are no banner ads or annoying pop-ups vying for your attention.
The closest you'll see to an ad on this free app is a section of the display that shows you what tools you'd need to create the design on a real pumpkin.
It's nice to see how you'd go about creating the jack o'lantern if you wanted to make it for real.
The tools, of course, are sold by Pumpkin Masters from their website at pumpkinmasters.com. You can access the site from the app and it's kind of interesting learning about the history of the company.
A nice feature of the website is that if you don't have an iPad there are still plenty of free on-line pumpkin helps. In the "Free Stuff" section of the site you can grab Halloween trivia, Halloween recipes, wallpapers and patterns for carving your own pumpkin all at no charge.
Granted, it's a seasonal app that likely within a few weeks you'll delete from your iPad, but for these last few pleasant days of autumn it's a colorful diversion for the Halloween season.
I'd say it's a get…and hopefully next year creators of the pumpkin app will widen their horizons and offer it for smart phones and Android devices so more can get it.
-John Fannin can be reached at jfannin@dailysunnews.com or at 837-4500.