Thursday, October 24, 2013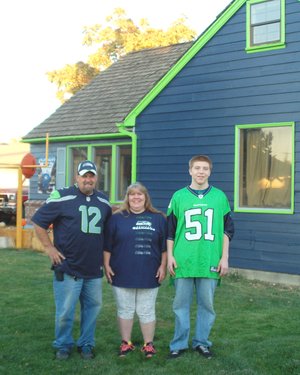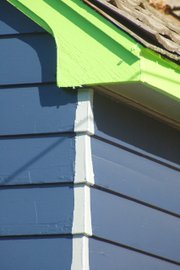 Brad and Wendy Denson of Sunnyside were all set to paint their 15th Street home a light yellow before the 12th Man spirit took over.
The result is that the couple recently painted their home with a Seahawk color scheme.
Brad, maintenance supervisor for the Sunnyside Housing Authority, got the Seattle team's colors just right by taking his Seahawk jersey to the paint store and having the paint mixed accordingly.
The result is a stunning dark blue home with bright green trim. No detail was left undone for the Seahawk house, with grey highlights in the team's uniforms mimicked in grey edges on the Denson home.
But it's not just the house itself that cheers for the Seahawks. Everything from the flag pole – now bearing a 12th Man flag – to the garden house bear the Seahawk color theme.
Brad says he did the house painting over the span of a few weekends. He smiles, and notes he ran out and got the paint as soon as Wendy agreed to his request for a Seahawk-themed exterior.
The hurry was in hopes of making the switch before Wendy changed her mind, but she says she has no regrets.
Neither does Brad.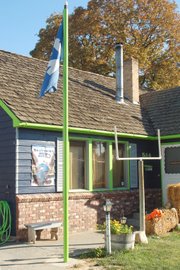 "At first I thought what have I done, but when we finished the colors worked well together," he said.
The Densons say they've gotten several compliments on their Seahawk house and a number of motorists slowing down for a closer look. "I think it almost caused an accident once," Brad laughed.
Wendy notes that they're not done yet with their themed design, including plans to have the Seahawk logo placed on the side of their house.
While the 12th Man spirit has taken hold of the Densons and their home this October, Brad promises he hasn't forgotten about the Halloween spirit.
The couple is known for extensive Halloween décor outside and usually by this time of year have their scary theme rigged up and ready to go. Painting their house Seahawk blue, green and grey has put a hold of sorts on that…at least for now.
We've gotten a slow start on our Halloween decorations this year," Brad smiles. "But we'll be ready for next week."
-John Fannin can be reached at 509-837-4500 or by e-mail at Jfannin@dailysunnews.com.