Tuesday, October 22, 2013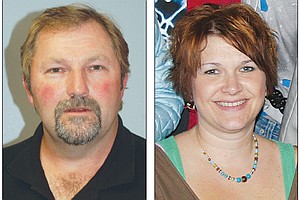 Jim Bridges, former city of Sunnyside public works director and interim city manager, has mounted a write-in candidacy in an effort to unseat school board incumbent Michelle Perry.
Perry is seeking re-election to her Sunnyside School Board, Pos. 2, seat and was surprised to learn about Bridges' late write-in challenge. She was previously unopposed.
She says the past four years have brought great progress to the district, including graduation rates that have soared from 46 to 82 percent.
"I think we've made a lot of improvements and we have a lot farther to go," says Perry, who sits on a state school board committee and also on Sunnyside Connects – a partnership of the city, schools and hospital that formed Sunnyside United.
"We've seen increases in parent and community involvement," she says of the success generated by Sunnyside Connects.
As for progress still to be made, Perry says parent and community interaction with schools needs to improve, as do graduation rates. "We are not at a 100 percent graduation rate yet, and we need to increase student achievement at all levels," said Perry, who would also like to see the district provide more artistic opportunities for students.
A substitute teacher for the Mabton School District, Perry says improvements are also needed in making the school district more accountable.
She says that doesn't just mean making teachers more accountable and transparent, but the board and superintendent posts, as well.
"I don't think we've given an effective superintendent evaluation yet," says Perry, who is at work on a state project related to evaluating superintendents.
Perry notes that each of the past three years the Sunnyside School Board has been honored as a board of distinction and made presentations at the state and national levels.
Her community involvement includes volunteering for the Cinco de Mayo Parade, serving on the board's instructional materials and transportation committees and helping with local volunteer house painting projects.
Bridges has lived in the Sunnyside area since 2003, and worked for the city of Sunnyside through January 2012. At that time his position as public works director was eliminated from the city's budget.
Bridges also served as Sunnyside's interim city manager from June 2009 through July 2010.
While working for the city, Bridges noted he worked with the Sunnyside School District in preparing for new construction projects.
Since leaving the city's employ, Bridges has become the public works director and county engineer for Asotin County. He also sits on the the Lewis and Clark Valley planning organization and is vice president of the organization's technical advisory committee.
He filed his name, James L. Bridges, with the county as a write-in candidate last week and claimed he was first approached to seek Perry's board seat about two weeks ago by a group of Sunnyside teachers.
Bridges declined to identify the teachers he says asked him to run for office.
"Being a government employee I understand the relationship between knowing the needs of the staff and weighing that against the reality of the budget and see where that fits in," Bridges said. "I know what it's like to be talked down to by elected officials."
He says he likes what's happening in the school district, especially with the increase in graduation rates.
However, Bridges says there is room for progress, noting he'd like to see the district take more advantage of technology to help parents and teachers respond more quickly in assisting students who fall behind.
"Is there a way to decrease the lag time of students falling behind and getting help? How fast can we respond as a team to help that child before they get into trouble?" he asks.
Bridges says if elected he'll listen to concerns brought to the board by staff and the community. "There should be a forum for listening to those concerns, but weighing them against existing policies."
Perry says if she's re-elected she'll strive to build on progress made to date in the school district. "My biggest concern is quality education for all students," she said. "We have to be innovative and creative. Our students are not cookie cutters."
-John Fannin can be reached at 509-837-4500.