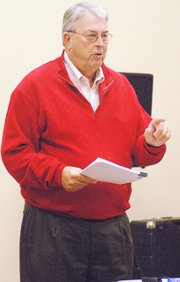 GRANGER – Solving the riddle of how to ensure land owner privacy while conducting detailed soil and nutrient surveys is the next hurdle facing the Lower Yakima Valley Groundwater Advisory Committee.
During its monthly meeting last night, Thursday, the committee received two presentations on research and surveys that will need to be done in the coming months to address nitrate-contaminated groundwater in some rural areas of the Lower Valley.
One involved detailing how and what kind of nutrients farmers apply to the soil. The other will examine deep soil samples up to six feet underground to determine the extent of contamination.
Deep soil testing would involve 100 farms during the first year of the survey and another 50 farms during the second year.
Getting those deep soil samples depends on finding farmers willing to cooperate.
"We want good participation. If we don't get it we may be knocking on doors," said Jim Trull, representing the Roza-Sunnyside Joint Board of Control. "But we need to know that we're not putting some growers in jeopardy."
Vern Redifer is Yakima County's public services director, and last night he said the county's deputy prosecuting attorney "…is as certain as he can be that information (identity of land owners involved in deep soil testing) can be exempt from public disclosure requests."
What's still to be determined, he added, is whether the farmers' identity can remain anonymous in the event of a court case.
It's a concern for land owners because four dairy farms that volunteered for an EPA groundwater study a year ago were later sued. Results of that voluntary survey were used against the dairies in the lawsuit brought by the local environmental group CARE, which has a representative on the groundwater advisory committee.
At issue is whether farms will volunteer for the deep soil sampling research if they can't be assured their identities will remain private.
Trull said the county's legal staff hopes to have a resolution on that issue in the next week or so.
More work in developing the deep soil and nutrient studies will continue next month at the sub-committee level. The studies will be brought back to the advisory committee at a later time for final action.
The estimated budget for the deep soil study is $217,000 and the nutrient study could have a price tag of up to $100,000.
-John Fannin can be reached at 509-837-4500 or by e-mail at Jfannin@dailysunnews.com.