Tuesday, October 15, 2013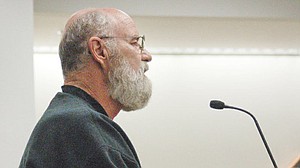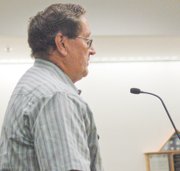 Comments by members of the public led to an emotionally charged speech by Deputy Mayor Don Vlieger at the end of last night's Sunnyside City Council meeting.
Vlieger told the council that he was offended by a fellow councilman questioning the Sunnyside Police Department's crime statistics following citizen allegations that police are not logging some crimes.
During the regularly scheduled time allotted for members of the public to speak to the council, at the beginning of the meeting, Ron Price and Ron Stremler, both from Sunnyside and former reserve police officers, spoke about interactions with the police that they found disturbing.
Price, speaking first, described how he called Sunnyside police when his house was vandalized. He had other business to attend to when he discovered the damage, but was told by the Sunnyside dispatcher that a number would be assigned to the incident and he could call back when he arrived home again.
Price said that when he called back, dispatch had no record of his call at all. An officer was sent out and examined the damage and told Price it was malicious mischief. Price then asked for a police incident number in order to report it to his insurance carrier.
"So I asked the officer for it and he says, 'Well, I don't have one'," said Price. "So he called dispatch and they had to assign one. My question is, when you first call... a number is usually assigned at that time. I'm just wondering how much is not being done with this. Hopefully it's not, but if it is, that's changing your crime statistics because it's not being reported for a person to log it in."
Councilwoman Theresa Hancock noted that the same thing had happened to her, as well. During a graffiti incident, she was not given the number that she needed for insurance purposes and had to call back and get one.
Stremler spoke next, and described an incident from August in which he'd noticed suspicious activity, including an open door, at a vacant house across the road from his home. He called police, who arrived after the suspicious persons had left. Stremler said officers then told him they were going to clear the house, which requires checking each room in the building.
Stremler said that by the time he had crossed the road, entered his own house by the back door and gone to his front window the police were already gone. He argued that the two-story home could not have been cleared in the one minute and 15 seconds it had taken him to walk back to his home.
Stremler said that a couple of days later he requested a list of all calls he had made to police in August. City hall could not find any record of him calling. Stremler also alleged that the house was not secured when police left and the incident should have been classified as a residential burglary.
"Whether a police officer is changing a report to a false report or failing to log in calls for service, it's both falsifications of reports," said Stremler. "Which gives the citizens of Sunnyside a false report of what really is happening."
At the end of the meeting during the regularly scheduled time for council members to speak on matters not on the agenda, Vlieger spoke about attending the gang coalition meeting with Deputy Police Chief Phil Schenck and how Sunnyside's presentation of its drop in crime statistics was well-received by the coalition.
Among the statistics that Vlieger presented were a 64 percent drop in burglaries from the seven-year average and a 44 percent drop in vandalism from the seven-year average.
Later during council comments, Councilman Francisco Guerrero asked how the council would address the issues that were raised by Price and Stremler at the beginning of the meeting. He noted that if the council was not getting correct information from the police, then the crime statistic numbers presented by Vlieger were "no good."
Mayor Jim Restucci explained that the council receives information at meetings but does not act on it, so the city manager would be handling the issue. City Manager Don Day confirmed that he is aware of the situation and plans to look into the incidents, including the new one reported by Hancock.
Vlieger then took the floor to make a comment.
"To extrapolate a paintball vandalism and an open door at a vacant home, which wasn't mentioned at the microphone, to casting aspersions on whether or not these statistics are valid is a really big stretch," Vlieger said. Of note, Stremler made it clear in his comments that the house was vacant, contrary to Vlieger's statement.
Vlieger continued, saying he takes offense at the allegation that the statistics might be flawed.
"I trust the deputy chief," he said. "I trust these numbers."
He said that failing to log a shooting or weapon offense is not possible.
"These numbers are good," he said. "And not only are they good statistically, our personal experience backs them up."
Vlieger addressed Guerrero directly, saying Guerrero wasn't on the council when kids were dying on a regular basis and people were being shot.
Hancock raised a point of order, noting that Vlieger was addressing another council member, which is not allowed under the rules. Vlieger said he would address his comments to the mayor, then.
"I take offense when people say, 'oh, we can't trust these'," he said, holding up a sheet of crime statistics. "Look at what's happening in our community. What the police have done, what has happened is nothing short of a miracle."
Towards the end of his speech, Vlieger began to complain that the negative comments are due to people not liking Schenck.
"I'm tired of it," Vlieger said. "I'm tired of people putting down a good man that's doing a good job."
Vlieger was cut off with an admonition from the mayor regarding his discussion of a city employee. Vlieger stated that he was done speaking anyway.
Councilman Jason Raines then took the floor to back up Vlieger's claims.
"People know when there's bullets in the air," he said. "I know before I got on council, in the afternoon when a kid on a bicycle pulled out a gun and fired it at another group of kids, 100 yards from where I was living at the time."
He talked about the people who were affected by the shooting.
"I know that that's not a fake incident," he said. "I was there for numerous incidents like that."
During a pause in his speech, Hancock started to make a comment. Raines appealed to the mayor, who gave the floor back to Raines.
"People feel much safer now than they did a few years ago," Raines said. "Where there's a potential problem, I'm sure the city staff will rectify that problem. If there is one."
Hancock then spoke to defend the comments by Price and Stremler and the question by Guerrero. She said the sensitivity level of Vlieger and Raines was too high and that no one was casting aspersions on anyone.
Raines responded that the validity of the statistics had been questioned by Guerrero and that no one was arguing that people should not be able to come before council to speak.
Restucci then spoke with some force about the entire argument.
"I've sat on this council for 10 years," said Restucci. "I've seen people come to the podium and make accusations at council, at city staff, about things that were done or not done. It is not our job, council members, to question the individual at the podium. It is not our job.
"Our jobs, as representatives of this government, are to sit here and listen to what the citizen has to say," he continued. "And it is not our job to then poke holes in that after we are done."
He said that he appreciates all citizens who speak before council, and if the issue is administrative, he will let the city manager address it.
"Do not cast aspersions, or attack any member of our community who comes here and stands before that podium and provides us with information," said Restucci. "We are representatives of them."
With that he declared the subject over and moved on to the next item on the agenda.
‑ Laura Gjovaag can be contacted at 509-837-4500, or email LGjovaag@DailySunNews.com