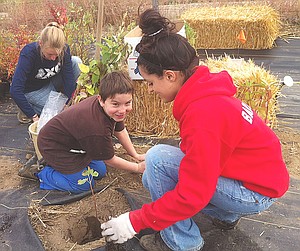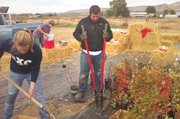 A chilly, wet morning greeted the young people gathered at South Emerald Road's Heavenly Hills Farm this past Saturday morning to plant native plants as part of a habitat restoration project.
The project, organized by farm owner Merritt Mitchell Wajeeh, had the young volunteers digging holes through sheets of black plastic secured by huge straw bales. They then proceeded to plant a collection of Yakima Valley native foliage as part of Wajeeh's effort to create a natural pollinator barrier at Heavenly Hills Permacultural Farm and Education Center.
Eventually, the plants will not only attract helpful insects such as bees, but will provide habitat for native animals and birds, as well, she explained.
The high school students used their time on the farm as community service hours and for extra credits in some of their agricultural and science classes, Wajeeh explained.
Wajeeh said the Sunnyside-area farm was once a multi-generational dairy and for the past six years, she and her family have worked to create an organic farm on the South Emerald Road acreage.
In addition to creating foliage barriers for the pollinators, she is working on several other restoration projects on the farm, several of which are in cooperation with the USDA Natural Resources Conservation Services and the Mid-Columbia Salmon Recovery program.
She said she was very grateful for the help from the members of Boy Scout Troop 630, who came out on Saturday to help plant such flowering plants as wild elderberry, mock orange and golden currents.
"I plan to present them and their leaders Cher and James Morrow with certificates for their part in the project," Wajeeh said.
She also complimented the Sunnyside High School students who were organized by Sunnyside High School teacher Laura Duncanson.
"They all worked very hard and we were able to finish our project by 12:30 p.m.," Wajeeh said.
She said the project had originally been scheduled to take about seven hours.

"The volunteers were very helpful, aiding us to plant more than an acre to native plants," she said.