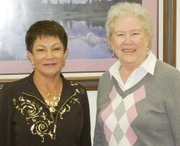 Dr. Esperanza Lemos has come a long way to become the new head of a small Sunnyside women's empowerment organization. She admittedly is a beacon for those women seeking to improve their lives through education.
Lemos comes from a family of farm workers. She is proud of her long history of work in public education. She has taught in the classroom and has worked her way up to being an assistant superintendent in the West Valley School District.
She also worked as a college professor, instructing master's classes at Heritage University near Toppenish.
Originally from Mabton, Lemos was introduced to the Sunnyside Ministerial Association by Sister Mary Rita Rohde during the group's monthly meeting held yesterday at the Sunnyside Seventh-day Adventist Church.
Lemos took over as executive director of Nuestra Casa on July 1, following the retirement of Rohde.
Lemos, who earned her PhD in education from the University of Seattle, has studied and taught in schools all over the United States.
Speaking to the community's ministers and laypeople, Lemos told of her plans to increase the opportunities for Nuestra Casa to partner with other agencies within the community.
She said the center, located at 1007 S. Sixth St., currently offers nutrition, civic education and parenting classes for the program's participants.
In addition, the center continues to work with such agencies as the Sunnyside Police Department to provide Nuestra Casa's clientele with safety information, including driving education.
Lemos said she is happy to be working with the Nuestra Casa three-person staff and the immigrant women who come to the center for encouragement and education.
"I believe that listening to the women, as well as giving them access to the many resources we have available to us will give our families a wonderful, rich experience," she said.
Among her future goals for the agency dedicated to support immigrant women is to increase community collaboration.
One of the new collaborations Nuestra Casa has embarked upon is working with Sunnyside Community Hospital to increase and improve culture competency between hospital medical staff and the community.
"We are excited to be a part of that project," she said.
Currently, the center offers ESL classes in the evening and during the morning hours at the center.
Lemos also hopes to create a website for Nuestra Casa in the near future.