Thursday, October 10, 2013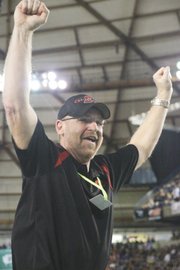 SHS wrestling coach George Paulus is one of three new inductees in the Washington State Wrestling Coaches Association Hall of Fame.
The association announced the honors this week and next month will hold a ceremony to formally induct the coaches.
Paulus has coached wrestling in the Sunnyside School District for the past 36 years. He led the junior high program for eight seasons, posting a record of 76-4 during that time.
After two seasons as an assistant coach at Sunnyside High School, Paulus took the reins of the Grizzly wrestling program in 1989 and since then has helped guide Sunnyside to 'Top 10' finishes at State 15 times. He's also coached 17 state champions, 27 state finalists and 81 state placers.
It alls adds up to a career dual meet record of 224-51-3….and hall of fame honors.
"It's kind of neat. It's nice that somebody's taken notice and that it warrants the award," Paulus says of being inducted into the state's hall of fame. "You never know how it's going to go. I'm sure glad they decided to let me in."
Paulus was nominated by an assistant wrestling coach at SHS, Jason Moyer.
"I always felt he's been a hall of fame coach," says Moyer, who has coached under Paulus for the past 10 years.
"Shoot, when I first came here I thought I had a good idea about how to coach wrestling, but the one thing I'm going to take away from George is how to put together a championship program…sustain success year after year," Moyer says.
"Quite an inspiring guy"
Moyer praised Paulus for the way he pays attention to the smallest of details…and to every wrestler, whether or not they're scoring points on the mat for Sunnyside.
"No detail or wrestler is insignificant to him," says Moyer. "He has an amazing amount of energy and for every kid that's ever been in the program, they're like family."
Moyer says of the overarching lessons SHS wrestling athletes and coaches learn from Paulus is that "…first you have to show up, you have to be there, you can't get better in skills and conditioning if you're not there at practice. You need to be present."
The second, he adds, is attitude. "When you are there you have to be 100 percent there with your effort and concentration."
The lessons work, Moyer notes. "I've seen kids turn it around on those two things. George is quite an inspiring guy."
Paulus, though, is quick to deflect the praise, expressing appreciation for wife Kathy and his family in letting him take the time to devote to wrestling, and for assistants, wrestlers and parents.
He also praised the Sunnyside School District in giving him the freedom to build a championship program for the Grizzlies.
"The school district has been willing to support the program in letting me do it the way I think it should be done," says Paulus. "They've given me freedom to find competitions and go to competitions, to do what it takes to be an elite team."
Beyond the support he has received in Sunnyside, Paulus says his success and love of wrestling dates back to high school and wrestling coaches who believed in him.
After a successful career as a high school wrestler in Cashmere, Paulus was a two-time qualifier for nationals while wrestling at Central Washington University.
From potatoes
to the podium
Paulus notes he had the rare opportunity to compete under three different hall of fame coaches as a high school and college athlete.
"From the get-go I was surrounded by a lot of top-notch people," he says.
One of those was hall of famer CWU wrestling coach Eric Beardsley, who not only guided Paulus as a wrestling athlete but as a coach.
Paulus, in fact, credits Beardsley for getting him on track as a coach, with Sunnyside's wrestling program being his first and only career stop.
"I was working at a potato processing plant in Quincy when he called me and said he might have found a coaching job for me," Paulus laughed.
Paulus in the 30-plus years since then has gone from potatoes to the podium as the recipient of multiple awards leading up to the hall of fame honors.
Paulus was named league Coach of the Year on eight occasions, Region 4 Coach of the Year five times, and in 2012 was selected as Washington state's 3A Coach of the Year. He also has received the City of Sunnyside "Mayor Award" for outstanding achievement and service to the community.
Paulus and the other two wrestling coach hall of fame inductees, Brian Higa (Tahoma HS/MS) and Barry Knott (Nathan Hale HS and Arlington HS), will be inducted during a banquet on Saturday, Nov. 2, at the Red Lion Hotel in Pasco.
Tickets are $25 per person for the banquet and must be purchased by Oct. 21. To obtain tickets, contact Moyer at 509-778-1638.
"I would definitely like to see people there from Sunnyside, especially those who have been a part of the wrestling program," Paulus said of next month's banquet ceremony.