Thursday, October 3, 2013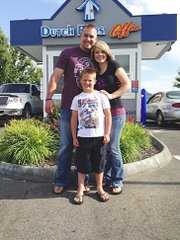 Tomorrow (Friday), Dutch Bros. Coffee is giving away free drinks all day, from 5 a.m. to 10 p.m., at its new Sunnyside location, located at 2630 E. Yakima Valley Hwy.
All 16-oz. drinks will be free, including specialty coffee, smoothies, freezes and the company's private-label, flavor-infused energy drink.
"I'm beyond excited," said local owner-operator Erin Bates. "I cannot wait to spread the Dutch love and show the Sunnyside community what Dutch Bros. is all about."
This is Bates' first store, and she can't wait to use it as a platform for getting involved in the Sunnyside community.
"Community involvement is one of the best parts of Dutch Bros.," said Bates. "I think it is such a great way to show our appreciation, and we want to give back as much as we can."
Dutch Bros. Sunnyside will be open from 5 a.m. to 10 p.m. Sunday through Thursday and 5 a.m. to 11 p.m. on Fridays and Saturdays.
Dutch Bros. Sunnyside will open with 11 broistas, including Bates.
It is that giving spirit, positivity and quality coffee hand-roasted in Oregon that have made Dutch Bros. Coffee such a success.
The Sunnyside location is the 23rd Dutch Bros. Coffee in Washington.