Wednesday, October 2, 2013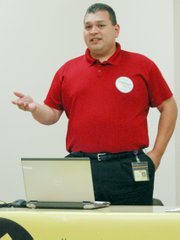 Despite some technical difficulties, the Washington State Health Benefit Exchange has gone live and people who have no health insurance will have the opportunity to sift through competing plans on-line, over the phone or with an in-person assister to find affordable coverage.
The enrollment period for health care plans on the exchange started yesterday for coverage that begins on Jan. 1, 2014. As of next year, everyone must have health insurance or pay a fine of up to 1 percent of their income when filing federal income taxes in 2015.
People who already have health insurance through their employer, Medicare or Medicaid will see few, if any, changes. The Affordable Health Care Act sets some new standards for health insurance companies, but otherwise coverage will stay the same.
People who have no insurance or are currently covered by Washington Basic Health will need to shop for a private insurance plan that fits their needs. The state exchange, Washington Healthplanfinder, offers one-stop shopping with guarantees for each private insurance plan listed.
In Yakima and Kittitas counties, more than 100 in-person assisters have been trained to answer questions and help people get through the sign-up process. Most local medical clinics, including every location run by Yakima Valley Farm Workers Clinic, Sunnyside Community Hospital and Yakima Neighborhood Health, can refer patients to an in-person assister.
Jorge Rodriguez, the Central Washington coordinator for Healthplanfinder, said that more assisters are being trained and will be available at clinics and at special events throughout the community. For instance, assisters were set up at the Central Washington State Fair to help people understand the new law.
"A lot of people will be fine signing up for health care on their own, some will need help," said Rodriguez. "We will be here to make sure people have the help they need."
Each health plan available on the exchange offers coverage in 10 basic areas: ambulatory patient services; emergency services; hospitalization; maternity; mental health; prescription drugs; rehabilitative services and devices; laboratory services; preventive and wellness services, and chronic disease management; and pediatric services.
In addition to the exchange, the Affordable Care Act also extends Medicaid in Washington state to include any individual making up to 138 percent of the federal poverty level, about $15,281 a year. People who use the exchange will be checked for eligibility for Medicaid.
Many people who do not qualify for Medicaid will qualify for subsidies that will lower the cost of health insurance. The subsidies will be determined by a person's expected income over the year. At the end of the year, the subsidies will be checked against each person's federal income tax and adjustments will be made if necessary.
Although people who already have insurance will not be directly impacted by the exchange, some insurance companies may increase premiums anyway. Those increases are not mandated by the law and, according to insurance agent Don Hinman, will probably go back down within two years.
"Every time there is a change in the market, insurance companies overcharge for awhile," said Hinman. "But it will settle down in a year or two and if the insurance company does not spend at least 80 percent on health coverage, people will get a refund on their premiums under the new law."
People are clearly interested in the health exchange. Yesterday morning the Healthplanfinder website slowed due to heavy traffic and was taken offline to fix the technical issues. It was back online as of 1:30 p.m. yesterday, but users may still experience slow loading times over the next few days.
Richard Onizuka, CEO for the Washington Health Benefit Exchange, urged all applicants to save their information and return to the website later if the site becomes extremely slow. People who do not wish to use the website can sign up with a local in-person assister.
To find out more information, people can call 1-855-WAFINDER (1-855-923-4633) or TTY/TDD 1-855-627-9604, email customersupport@wahbexchange.org, visit wahealthplanfinder.org or visit a local medical clinic and ask for assistance signing up for health insurance.