Wednesday, November 27, 2013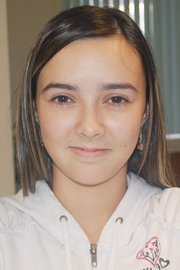 Age: 16.
Spouse: None.
Children: None.
Occupation and place of work: Full-time student at Sunnyside High School.
My favorite part of the Yakima Valley is... the library.
When I was a child, I wanted to grow up to be... a veterinarian.
First job I ever had was... a Girl Scout selling nuts, chocolates and cookies.
If a movie was made of my life, the actor/actress I'd want to play me is... Christina Ricci.
The best gift I ever received was... a telescope and a Nook art desk I got for Christmas when I was a kid.
The best piece of advice I ever received was... "Be yourself."
My favorite dessert is... chocolate chip cookies.
One of my most memorable moments, besides getting married or having children was... laughter-filled moments with my family.
If I could witness any event past, present, or future, I would want to see... invention of the first typewriter.
I'd love to learn how to... live on my own.
The furthest I have been away from home is when I went to... Oregon and Silverwood (Idaho).
My favorite leisure activity or hobby is... reading and writing.
If I didn't have to worry about money, I'd spend my time... reading and writing.
The one word that best describes me is... ecstatic.
If I could change one thing about myself it would be... no more head traumas.