Monday, November 25, 2013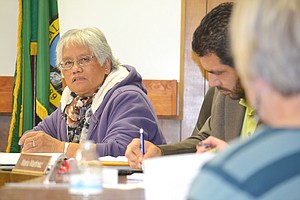 MABTON – In her last meeting as Mabton's mayor, Vera Zavala presided over a special session last Friday that moved the city closer to wrapping up budget discussions for 2014.
The latest projections presented by City Clerk Ret Stewart call for $756,265 in general fund revenues and $709,404 in general fund expenses. That's a predicted surplus of nearly $47,000 for the general fund, which covers much of the city's day-to-day operations.
That's the good news.
The not-so-good news is that all the city of Mabton's funds together will have a combined deficit of about $83,000 in 2014. The grand total for revenues projected next year is $1,646,763 and expenses are slotted at $1,729,975.
Mabton's street ($82,400 projected expenses) and water/sewer funds ($645,655) combine to account for the bulk of the expected shortfall in 2014.
In keeping with recommendations from a third-party review of the city's books, Mabton will tighten up its accounting and shore up the shortfall by consolidating some of its accounts. For example, Mabton has about $80,000 in a number of isolated contingency funds, ranging from cemetery to garbage. Stewart noted that, based on recommendations made to the city, those funds should be consolidated with other related accounts.
In addition, the city in 2014 will look to break out the water/sewer account into separate funds. Realigning the funds will require drawing up new city ordinances for future council action.
The Mabton City Council will meet for its regular business meeting tomorrow, Tuesday, at 6 p.m. for what could be its final 2014 budget review. That meeting will also serve as the first for Mario Martinez as Mabton's mayor. Martinez ran for the mayor's seat unopposed in the general election, though Zavala mounted a silent write-in campaign that came up about 10 votes short.
Martinez will be sworn in as mayor tomorrow morning after Yakima County certifies the election.
In what was her final meeting last Friday as Mabton's interim mayor, Zavala provided a note accompanying the latest budget figures.
She expressed confidence in the city's future.
"I am excited about the turnaround that is already visible in our city and look forward to the new year."