Thursday, November 21, 2013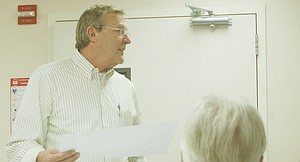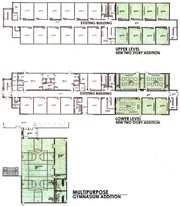 The additional 25,000 square feet currently being added to Sunnyside High School is expected to handle the enrollment needs of the Sunnyside School District's high school students for the next 25 years, according to Braven Benzak, the district's construction manager.
Currently, more than 1,750 students attend classes on the high school campus.
Speaking before the Sunnyside Daybreak Rotary members Wednesday morning, Benzak said the expansion is on track to be completed by June 1, 2014, despite some construction setbacks encountered earlier in the current school year.
"We had some foundation issues to deal with that set us back by two weeks. The contractor has made up that time and we are now on target for the June completion," he said.
Benzak explained that the district's original construction plans for the 300 building in 2009 allowed for the current expansion when the state funds became available. He said the current addition will add 10 classrooms to the 300 two-story building, eight of which will be on the second level of the building. In addition, the building will include two rooms for the high school's science, technology, engineering and math (STEM) program, as well as an enlarged art instruction classroom on the lower level.
The building, which has the district's only elevator, will also see the addition of a new stairway and additional storage facilities.
The latest expansion also includes the addition of a multipurpose room off the main gym, Benzak said.
The room which will be used as an extra wrestling practice gym, he explained.
When finished it may also be used as a basketball practice gym. Restrooms and apparatus storage facilities are also part of the addition, he added.
In addition to the expansions, the new portions of the high school campus will also include an enhanced security system. Benzak said the campus will have 250 cameras covering the parking lots, hallways and doorways throughout the facility.