Friday, November 15, 2013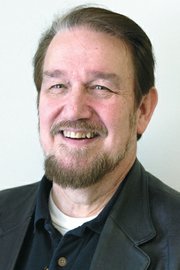 Despite being a solidly entrenched Pentecostal, Dad often said to me, "Pay no attention to the name over the door, Son! You're not going to see Catholic Square, or Presbyterian Avenue, or Methodist Boulevard, or Pentecostal Circle, or Baptist Street or Nazarene Highway, or anything remotely like that in Heaven! The ONLY thing that counts is where people stand in their relationship with the Lord Jesus Christ."
As the years went by I realized the truth of what Dad was preaching, and when I met other Christians it never occurred to me to ask them whether they were Catholic or Baptist or whatever! If they knew the Lord there was an immediate witness by Holy Spirit and there was no need to ask what label they wore on their forehead.
In late 1970 I was able to participate in a pair of charismatic conferences; one with the Episcopal rector of The Church of the Redeemer in Houston, and one with a Roman Catholic bishop from Los Angeles. We shared together as members of the same family - the family of God! As we ministered together we saw the Spirit of God pour out on people irrespective of their denominational background. Lutherans and Methodists, Baptists and Presbyterians, Mennonites and Amish, Seventh Day Adventists and United Brethren - you name it - were speaking in tongues and moving in the Gifts of the Spirit, laying hands on people, seeing folks get healed, delivered from evil spirits and made whole.
When you see God move like that, you very quickly realize that He is no respecter of persons, no respecter of race, no respecter of gender, no respecter of denomination - and certainly no respecter of doctrine! It all goes out the window!
It gets worse, folks! With a major portion of my extended family being Mormon, and having grown up in a culture of hearing that Mormons were all part of a cult that needed to be avoided like the plague, it was both eye-opening and rewarding to spend five years in Salt Lake City and watch God move among Mormons exactly as I had seen Him move among the so-called "denominational groups."
In the summer of 1971, I called Andrae Crouch (with whom I had done concerts and recorded with in the mid-1960's), Charles McPheeters and other friends in the Christian music realm to join me for a three-week "Jesus Festival" on the Salt Lake County Fairgrounds. During that three-week period we saw various Mormon bishops, members of the Council of Twelve and Mormons by the hundred receive healing, deliverance from evil spirits, and (for others to whom Mormonism was simply another "religion") genuine salvation through Jesus Christ.
There were miracles by the hundred with blind eyes opened, deaf ears unstopped, the lame made to walk again, etc., etc., etc.
Gotta tell you! You want to be delivered from religious bondage? Just watch God move among those whom you've avoided because they have "strange doctrines" and "really odd beliefs!"
After the festival had ended I spoke with a number of people who had consecrated their lives to the Lord Jesus Christ and asked them where they were "going to go to church" now that they had been "saved." A few said they weren't sure, but they were going to find a new church to attend. Some looked really puzzled at my question as if it really made no sense. Others boldly said, "We aren't going anywhere! We're going to stay where we are."
My religious prejudice suddenly got exposed. "How can you stay in the Mormon church when you've been saved?" I asked, absolutely puzzled at their response. After all, one couldn't remain in the Mormon church with its doctrines and still be saved and know the Lord - so I thought.
The answer I received hit me between the eyeballs. One lady really nailed me. "I thought you left your denomination because the Lord both opened an opportunity for you to leave and instructed you to do so. Did you leave before God told you to leave, or after He told you to leave?"
OUCH!
She continued. "I don't know how long I will remain in the Mormon church, but this is where the Lord has me. I have no intention of leaving unless and until He instructs me to do so, and then opens the door to leave."
By now you are getting the picture, I'm sure.
I know some of my Pentecostal brethren who have used exactly the same routine on Baptists or Methodists or Episcopalians after they were baptized in the Holy Spirit. And they got the same answer I got from that Mormon lady. "We're staying where we are unless Holy Spirit instructs us to leave."
I'm describing to you a prejudice and a religious bias that has existed throughout the body of Christ for many centuries. It is the underlying foundation of all racism, no matter by what name it is called. All racism has religious overtones. If one is ensnared by spirits of religion they tend to look with certain jaundice at those who are a part of a different denomination.
What Holy Spirit had awakened in me through those experiences was the reality was that I was a religious racist. What society refers to so glibly as "racism" is thoroughly rooted in the same religious spirit that spawns denominationalism and separation between believers because they look different, they dress different, they have some areas of belief or understanding that differ from those you (I) have.
We are chosen by the Lord because we choose Him! We choose Him above all else. No doctrine matters. No upbringing matters. No church label makes a pig's feet worth of difference. Whether we've lived on the streets and in the gutters of society, or whether we've lived in the most prestigious mansions and have been regarded as "the upper crust of society," everything - and I do mean EVERYTHING - becomes as a pile of horse puckey so that we can win God's best!
Those same rules apply with social, political, cultural and religious racism. We have no business calling ourselves white or black, or Hispanic or Latino since those labels set us apart as better than someone of a different color or race when we use them.
The same rule applies if we call ourselves Mexican-American, Russian-American, African-American or whatever. The terms are racist and divisive!
Can we just please be Americans? Can we please just be "people"? Can we as members of the body of Christ just be "heirs and joint-heirs with Christ"?
‑ Regner A. Capener is senior pastor of the Lower Yakima Valley River Worship Center.