Thursday, November 14, 2013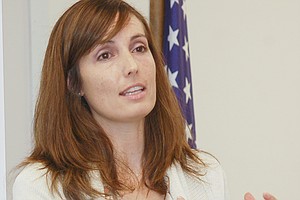 A local group of charter school organizers is in the process of collecting signatures to include with their application to establish a charter school in the Sunnyside School District.

The signatures would be a welcome show of support for the new school, according to Sunnyside Charter School Committee spokesperson Brittany Weaver.
She said the deadline for the group to submit its letter of application to the Washington State Charter School Commission is Nov. 22.
If the state accepts the local application, Sunnyside parents could have the charter school option available to them as early as the 2015 school year, Weaver told Sunnyside Daybreak Rotarians at their regular weekly meeting this past Wednesday.
Weaver said the local charter school committee submitted a letter of intent to establish a charter school in Sunnyside in October as part of the application process.
"We believe the establishment of the charter school in our community will give Sunnyside parents one more option for educating their children," she said.
Weaver said the local group is in the process of forming a board of directors which will reflect the diversity of the community. Weaver, who currently home schools her younger children, said the intent is for the Sunnyside charter school to be a K-8 facility.
"We are working closely with the Sunnyside High School administration to ensure the charter school students' curriculum lines up with high school graduation criteria," she said.
She said charter school students will be able to work at their own pace and parents will be expected to be much more involved with their children's education.
Washington is the 42nd state in the nation to approve the establishment of charter schools, which will be funded by state and federal dollars, Weaver said.
There are currently 2 million students attending charter schools across the country, she added.
Weaver said Washington state will only be approving eight charter school applications each year for the next four years.
"We hope to be one of those first eight schools," she said.
She encouraged charter school supporters to contact her to sign the charter school petition by emailing her at sunnysidecharterschool@gmail.com.