Thursday, November 14, 2013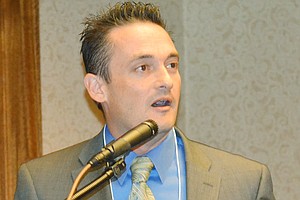 PASCO – What do Ohio State University, Illinois state lotteries and Centennial, Colo. have in common?
All three are among a growing trend of public entities contracting with private enterprise to become more efficient.
That's according to Leonard Gilroy, director of government reform for the Reason Foundation.
Gilroy was one of several presenters in Pasco this past Tuesday for the first-ever Solutions Summit offered by the Washington Policy Center in partnership with organizations ranging from chambers of commerce in Yakima and the Tri-Cities to the Washington State Medical Association.
A former advisor to the New Jersey privatization task force created by Gov. Chris Christie, Gilroy on Tuesday encouraged state and local governments to consider partnering with private companies to carry out their work.
"Just because government wants to see something done doesn't mean it has to be government employees doing it," Gilroy said on Tuesday. He said there are examples of governments contracting with businesses for everything from cutting the grass at city hall to multi-million dollar infrastructure projects.
Gilroy calls it "embracing the power of competition," and notes that governments are saving anywhere from 10 to 25 percent on operation costs by contracting with private firms. "That includes a profit for the private company, so it gives you a sense of what the cost savings can be," he says.
Ohio State University, he notes, contracted with a private firm to handle parking leases as a way to increase revenues in the face of declining state appropriations.
The city of Centennial, he adds, outsourced its public works department in 2007 and recently renewed a five-year contract with a company to handle public works duties.
He notes the state of California is having a private firm operate state parks in order to keep them open.
Sandy Springs, Ga., Gilroy added, has become a "contract city" in that most of its functions – ranging from parks to public works – are being handled by private companies.
He contends public-private partnerships are non-partisan, noting that Bill Clinton's administration contracted with more companies than Ronald Reagan's.
Gilroy suggests cities and state agencies be careful about contracting with private firms for day-to-day operations, ensuring the process includes due diligence and accountability to make sure work is being done well and in a timely fashion.
When it's done right, though, partnerships with private businesses can be a big help for governments, Gilroy says.
"Privatization can help be part of the solution," he says. "It brings private capital to the equation."