Thursday, November 14, 2013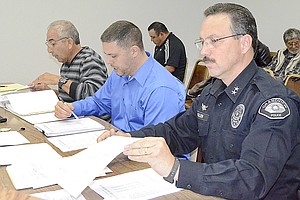 GRANDVIEW – A draft of the 2014 Grandview budget totals $16,974,640, but that may change when the Grandview City Council reviews it on Tuesday, Nov. 26.
That's because a few recommended expenditures were not included in the proposal presented by city staff on Tuesday of this week.
The police department would like to fill a vacant detective position, two supervisor positions, complete an architectural study for a new building and start a line item in the budget to maintain its shooting range.
Because the building that currently houses the museum must be vacated in the next couple of years, Parks and Recreation Director Mike Carpenter recommended adding another $25,000 to a fund that has been established for the construction of a new facility at Country Park.
Another recommendation that is under consideration is the construction of new restroom facilities at Westside Park.
City Administrator Cus Arteaga said he wishes to have Grandview Treasurer Matt Cordray calculate the budget with the recommendations. With the recommendations added, the city council will have a better idea of what the budget would look like if it chooses to approve the recommended additions.
Arteaga said of Tuesday night's presentation, "There are no frills."
He said the proposed 2014 budget was prepared by staff, keeping closely to figures in the 2013 budget.
"There are no salary increases," Arteaga said, noting there are currently union negotiations underway and there may be some salary increases in the future.
He said the city will maintain its reserve funding, but water and sewer rate increases are expected.
The city's current expense fund in 2014 is anticipated to increase by 26 percent over 2013.
Included in the increase is $103,400 in additional funding for the police department. Police Chief David Charvet will be retiring at the end of January 2014. He will receive pay for any sick days and vacation days not yet used.
In addition, his retirement will increase the budget for risk management services because he will qualify as a Leoff 1 retiree. Risk management services include all insurance and liability expenditures. The fund will increase by just more than 21 percent.
The police administration budget will increase by $10,400 and patrol services will receive a 5.1 percent increase to account for two new patrol cars and an increase in fuel expenses.
The fire department also anticipates some increases to its budget. There are increases to the cost of medical and insurance benefits, as well as rentals and leases, according to Fire Chief Pat Mason.
Travel expenses for the purpose of training volunteer firefighters have been increased by $500 in the proposed budget, but the overall fire department budget is anticipated to be just $8,430 more than in 2013.
Carpenter spoke to the council about the budget for the parks and recreation department, stating there are a few increases, including an additional $3,000 for recreational services and $330 for aquatics. A $1,500 reduction was made to the budget for senior services.
All told the proposed parks and recreation budget was decreased by $7,750.
The city of Grandview has several enterprise funds, which are funds for dedicated purposes.
The EMS fund is anticipated to have a 5 percent increase in expenditures. Fuel costs, and equipment and lease expenses, as well as more than $5,900 for emergency medical service communications are the reason for the increase.
Expenditures from the law and justice tax fund are expected to be only $800 more in 2014 than in 2013.
With fewer street improvements planned for 2014, Grandview anticipates the budget to decrease by more than 34 percent. Just two projects are currently planned. Improvements will be made to Bonnieview Road and Old Inland Empire Highway.
The capital improvement fund currently has $175,000 earmarked for a new museum. Staff would like to increase that amount to $200,000, although it is anticipated construction could amount to $250,000.
The proposed water and sewer fund is anticipated to increase from $6,806,380 to $6,814,130 (.11 percent), and the irrigation expenditures are anticipated to increase by 4.21 percent next year.
Grandview's Transportation Benefit District fund, because there are fewer road improvements planned in 2014, is expected to have a decrease in expenditures of more than 28.5 percent.
Cordray told the city council the budget is balanced and reserves are healthy.
Arteaga said the healthy reserves may allow the city the option of fulfilling some of the added recommendations from the police, and parks and recreation departments.