Wednesday, November 13, 2013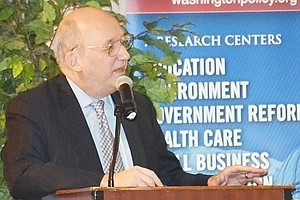 PASCO – "The watchword is going to be, 'I'm Amish, leave me alone'," Thomas Miller quipped yesterday about one possible way to evade Obamacare.
Miller is with the American Enterprise Institute of Wash-ington D.C. and made his remarks Tuesday morning in Pasco during the Washington Policy Center's first-ever Solutions Summit.
An independent, non-profit think tank that researches and comments on policy issues, the Washington Policy Center invited Miller to speak about the Affordable Care Act.
While he was joking in his remark about U.S. residents turning Amish to duck out of Obamacare on supposed religious grounds, Miller had a serious message for Democrats and Republicans.
A former trial attorney and journalist, Miller said those who are backing the Affordable Care Act made the ultimate political mistake of "producing losses before gains." That's in reference to the fact some Americans are losing existing health insurance plans before new ones kick in next year under the Affordable Care Act.
Miller continued that there are "visible victims" due to the advent of Obamacare and, he notes, having losses before gains is "not the place you want to be."
Miller is an unabashed critic of the Affordable Care Act and has even authored a book on his stance, titled Why ObamaCare is Wrong for America.
He says the public is also at risk of being victimized through the health care act because of security glitches on the government website.
"The door is wide open for fraud," he said.
Calling the Obama administration's approach to the concerns as "top down paternalism," Miller said there is both short term and long term opposition brewing against the president's plan.
He suggested that due to problems in the system there may be states that modify the health care exchanges. "Don't be surprised if some elements are dropped," Miller cautioned.
He contends public opinion is still mixed on the health care act and said during next year's election season we may see some blame-shifting tactics.
Additional court challenges to the Affordable Care Act are also in the offing, Miller says.
And, he notes, Republicans will have several tactics at their disposal during future election cycles, noting they may direct attention to problems that Obamacare is causing individual patients, not just the burdens it imposes on businesses.
Democrats, he predicts, may adjust to counter Republican efforts. Those include expanding the open season for enrollment in Obamacare and, at least for the short-term, grandfathering in some existing health care plans.
When asked by an audience member if there is anything Obamacare does right, Miller laughed and said copy writers did a good job of spelling when they crafted the health care legislation.
However, he noted the health care act does have the potential to create transparency for consumers regarding health insurance information.
Miller adds the Affordable Health Care Act is also doing a good job of creating a public dialogue and debate about health care in this country.
He says Republicans, though, need to do more than debate Obamacare's talking points. "Elections matter, too," he says. "It helps to win instead of talking about it."