Tuesday, November 12, 2013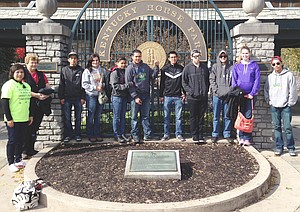 LOUISVILLE, KY - From Oct. 26 through Nov. 2 the Mabton FFA chapter was in attendance at the National FFA Convention in Louisville, Ky.
The convention hosted approximately 56,000 FFA members and guests from all over the U.S., each participating in competitions, workshops and career opportunities.
The Mabton FFA had eight members at the convention. They included Alex Jaramillo, Joel Chavez, Michael Jaramillo, Crystal Cruz, Jessica Vazquez, Ty Leyendekker, Joshuah Rodriguez and Edson Rivera, as well as Mabton FFA Advisor Randi Krieg, Mabton Superintendent of Schools Minerva Morales and volunteer Nancy Nickels.
The chapter traveled to Louisville to receive its National Chapter Award.
The National Chapter Award is presented to outstanding FFA chapters that submit a presentation of 15 high-quality activities that the chapter participates in annually. Each event must fall within one of the three categories: chapter, school and community development. The Mabton FFA was awarded fifth place honors from among 152 chapters at the state level and two gold stars at the national level.
Besides receiving the chapter award, the Mabton students participated in numerous tours in the states of Tennessee and Kentucky. The tours the members participated in included The Hermitage, Country Music Hall of Fame, Mammoth Caves, Church Hill Downs, Kentucky Horse Park, Louisville Slugger Museum and Opry Hotel.
Mabton FFA Community Chairperson Edson Rivera said, "This was my second year going and every year there is a new experience.
"For example, the Mammoth Caves was an opportunity to learn of earth science and history. We learned how limestone was formed and how the Mammoth Caves is the largest cave system in the world."
Additionally, members attended a country concert put on by Dierks Bentley and Jana Kramer.
Mabton FFA members also attended the National FFA Agricultural Career Show. The career show hosted more than 1,300 booths representing colleges, agriculture-related companies, fundraising companies, U.S. Armed Services, and auto and truck manufacturers at the Kentucky State Fair Exposition Center.
This occasion to travel across the country to be recognized for excellence and to participate in hands-on learning opportunities was a once in a lifetime experience for the Mabton FFA.
Mabton FFA member Crystal Cruz stated, "Getting this award was a great experience to get out of our small town and be recognized at the national level."