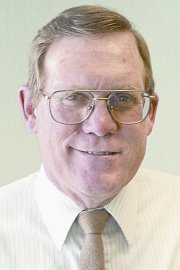 While November is the month of Thanksgiving; it is also the month of my birthday.
I was born on All Saints Day. If my mother caught me bragging about that she would quickly remind me that I just missed Halloween.
Birthdays were a big thing to me when I was young. Fortunately I was raised in a loving home where Mom always made my birthday special. I remember for several years from the time I was about seven that I would look forward to the Sears and Roebuck, and Montgomery Ward's Christmas catalogues.
I loved playing cowboys and Indians; (most of the time I was an Indian), and I would drool over the Ben Pearson archery sets in the catalogues. Finally, after three long years of dreaming and waiting till "I was old enough," my uncle Benny bought me a Ben Pearson 20-pound hickory bow archery set for my 10th birthday.
I loved shooting my arrows. We lived in a country setting so I had wide open spaces to shoot without endangering others. I remember one day that I had nearly exhausted my arrows. Either I lost some or broke some; but I was down to my last two arrows. I shot one out into a grassy area where there was a lot of dead matted grass. I looked for a long time for that arrow but just could not find it. I was nearsighted and did not have glasses yet so that did not help.
While I was looking in earnest the thought came to me that if I prayed to God, He might help me locate my arrow. So I stopped where I was, bowed my head and asked Jesus to please help me find my arrow. That was my first experiment with prayer. When I opened my eyes, still with my head bowed in reverence, I immediately saw that I was standing directly over the arrow which was between my feet.
God had honored the sincere prayer of a little boy. It might have been an inconsequential issue to an adult, but to me as a 10-year-old stepping out in faith, it was life changing. That experience taught me that God does answer prayer, even in little things. Prayer is talking to a friend who loves us very much. Since then God has touched my life in many different ways, including the continual connection I have with Him through prayer.
While November is the month of Thanksgiving, I thank God for the gift and power of prayer.
"Be anxious for nothing, but in everything by prayer and supplication with thanksgiving let your requests be made known to God. And the peace of God, which surpasses all comprehension, will guard your hearts and your minds in Christ Jesus." Philippians 4:6, 7
Rev. Larry D. Mays is the pastor at Sunnyside's Seventh-Day Adventist Church and a member of the Sunnyside Ministerial Association.