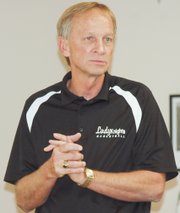 If the Sunnyside Daybreak Rotarians were expecting a glowing preview of the 2013-14 Sunnyside Christian High School girls basketball season, they were destined to be disappointed.
Instead, the Rotarians left their Wednesday morning meeting with a new appreciation for the work that goes into coaching the team. Longtime Sunnyside Christian High School girls' basketball coach Al Smeenk told of his team's willingness to work hard, stay focused and to be disciplined.
He never questions whether girls can work hard, because his girls work really hard.
"You get what you demand of them," he noted.
Smeenk, who is entering his 31st year as Lady Knights coach, told the Rotarians his team is intense. Its members are not ashamed to compare their basketball bruises after games.
"They give a lot and so I feel they need to know they are valued. I try to make sure I develop a good working relationship with each team player," he added.
Smeenk strongly holds to the adage "people don't care what you know, until they know how much you care."
I want my team to know I care, but I also want them to work hard.
He admits he is also pretty intense, and as any Christian High School girls basketball fan can attest, Smeenk is not a coach to sit on the sidelines.
"I make good use of the space in the coach box," he laughed.

Smeenk said this year's basketball season starts Monday, Nov. 18, with the first day of practice. The WIAA mandates players have at least 10 practices under their belts before being allowed to play in a game.

"We'll be picking up a few Saturday basketball practices," he added.
Smeenk admits there have been at least two times during his coaching career when he has considered hanging up his clipboard, but "…I love the kids and I love the game.
"I love that they work hard and never give up," he said.