Tuesday, November 5, 2013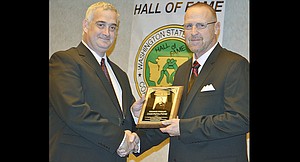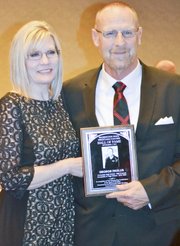 PASCO - "You're only as good as the people around you," George Paulus said last Saturday night during his induction into the Washington State Wrestling Coaches Association Hall of Fame.
During a ceremony held at the Pasco Red Lion, Paulus had plenty of people surrounding him as about 30 or so friends, family and colleagues turned out for the hall of fame ceremony.
Not surprisingly, the loudest applause for the three inductees announced last Saturday was for Paulus, as the Sunnyside contingent was the largest in the audience of about 150 people.
Paulus has coached wrestling in the Sunnyside School District for the past 36 years. He led the junior high program for eight seasons, posting a record of 76-4 during that time.
After two seasons as an assistant coach at Sunnyside High School, Paulus took the reins of the Grizzly wrestling program in 1989 and since then has helped guide Sunnyside to 'Top 10' finishes at State 15 times. He's also coached 17 state champions, 27 state finalists and 81 state placers.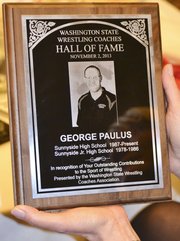 Paulus was also named league coach of the year on eight occasions, Region 4 Coach of the Year five times, and in 2012 was selected as Washington state's 3A Coach of the Year. He also has received the City of Sunnyside "Mayor Award" for outstanding achievement and service to the community.
It all adds up to a career dual meet record of 224-51-3….and hall of fame honors.
SHS athletic director Bill Daley was among those who made the trip to Pasco for Paulus' induction, and said the honor is not only a positive for the Grizzly wrestling program and athletic department, but for the Sunnyside community as a whole.
Not only are hall of fame honors so rare, but Daley says it's a big plus that Paulus is still making contributions through the SHS wrestling program as coach and mentor.
Besides having the No. 1 ranked 3A wrestling team in the state in 2013, according to pre-season prognostications, the Sunnyside wrestling program under Paulus is providing ongoing impacts in other ways.
One of his former wrestlers, Pete DeLaRosa, now coaches wrestling at Bellevue Christian High School. He made the trek to Pasco on Saturday.
"He taught us that life is gonna be hard sometimes but to never quit," DeLaRosa said.
Another former wrestler, Juan Gonzalez, still calls Sunnyside home and last Saturday said Paulus' philosophy and example are his goals for a youth wrestling program he works with here.
"It's hard to explain what he's meant, you know, he's coached two of my sons and my daughter," said Gonzalez, wearing a big smile and looking on as one Sunnyside wrestling alum after another lined up for photos with Paulus.
Despite the high praise and honor bestowed on him as a hall of famer, Paulus was humble in accepting the award. He thanked Sunnyside wrestlers and their parents, the school district and his assistant coaches.
He especially thanked his wife Kathy and their three children for bearing with him through the ups and downs of coaching, for "being tolerant of me and all the moods."
Sunnyside is the only coaching job Paulus has ever known, and during his speech Saturday night said he fell in love with the community right from the start. A native of Cashmere, Paulus said he identified with Sunnyside's youth, who like him are growing up in a small rural town.
"They were so much like me when I was a kid," he smiled, noting he was at times an altar boy and at other times a "hellion" as a Cashmere youth.
Bill Elliott coached Paulus when he was a high school wrestler and in 1987 was inducted into the Washington State Wrestling Coaches Association Hall of Fame. He was there in Pasco, too, Saturday night and shared Paulus' banquet table.
"I'm proud as I can be," a beaming Elliott said of Paulus, his first protégé to become a hall of famer. "He was one of those kids that needed wrestling at the time and he made the most of it."
Today, Paulus says his goal is to help his student-athletes realize there is life beyond wrestling and to make the most of that life.
"They're not all State placers but they all have value," he said, adding he wants all of his students to make the most of their journey.
Win, lose or draw, Paulus said Saturday that all of his wrestlers over the past 30-plus years are "part of my Grizzly family."
Following Saturday night's ceremony, Gonzalez said he hopes Paulus will continue long enough to add some more members of his family to the Grizzly family.
"I still have three more sons and I want him stick around and coach them," he laughed.
- John Fannin can be reached at 509-837-4500.