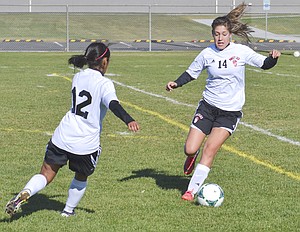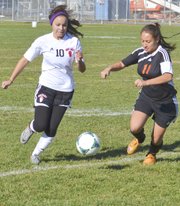 Battling a nasty wind and a stubborn Kennewick squad, the Sunnyside Lady Grizzly soccer team hung tough in a tight 4-3 playoff win last Saturday.
The loser-out contest saw the visiting Lions strike first with a goal in the 15th minute.
Down, but far from out, Sunnyside answered with a goal in the 35th minute when Vianca Madrigal scored off a corner kick, launching the ball into the top left corner of the Kennewick net.
On her way to a clutch hat trick, Sunnyside's Susana Arreola gave the Lady Grizzlies a 2-1 lead at the half with a successful penalty kick attempt in the 38th minute.
Arreola struck again just four minutes into the second half to put the Lady Grizzlies up 3-1.
But Kennewick, with a fierce wind now at its back, had other ideas. The Lions scored twice in the next 20 minutes to knot the score at 3-3.
In the waning moments of the playoff battle, just as overtime looked to be in the offing, Arreola came through once again.
Taking in a pass from Madrigal, the junior forward drilled the ball into the back of the net with just four minutes left to play in regulation to give the Lady Grizzlies a hard-fought 4-3 win.
"It was a beautiful shot," said Sunnyside Coach Sylvia Villagrana.
Praising her team's persistence in pulling off the come-from-behind victory, Villagrana says the Lady Grizzlies (6-10) will now have to focus yet again on another loser-out playoff contest tomorrow (Tuesday). That match will be on the road at Mt. Spokane, at 3 p.m.