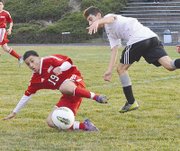 GRANDVIEW - It was a close match throughout, but Grandview prevailed in yesterday's non-league rivalry match with Sunnyside by a score of 2-1 after a 5-4 shootout in overtime.
The Grizzlies went kick-for-kick with Grandview in scoring and the teams were tied 1-1 at the end of regulation.
"Grandview threatened early with meaningful opportunities, but couldn't cash in on any," said Grandview Coach Anne Holden.
She said there were long periods when the game was evenly poised and both teams were scraping for midfield dominance.
Greyhound Israel Gonzalez was the first to successfully draw blood, booting the ball between the crossbars in the 49th minute of the match off an assist by Edwin Salgado.
Sunnyside equalized the match in the 76th minute. Marcelio Madera moved in on the goal and kicked the ball past Grandview keeper Elmer Campuzano. The assist was from teammate Christian Chavez.
Both teams had 10 shots on goal during regulation.
It was Grandview's Martin Barragan, Sabian Lua, Salgado, Victor Valencia and Cesar Orduno that scored the penalty kicks in overtime.
For Sunnyside, Chavez, Noe Mesa, Nayid Dominguez and Abraham Garcia successfully got the ball into the back of the net.
Campuzano recorded four saves, while Sunnyside keepers Gorge Villegas and Max Romos combined for six.
"Grandview has several returners, they're pretty talented and quick," said Sunnyside Coach Dave Guevara.
"We had our opportunities but couldn't convert," he said.
Guevara said the opening schedule has been tough for Sunnyside, with a jamboree on Friday, a match on Saturday and then a match last night. That's three matches in four days, all on the road.
"It's been a tough couple of days," he said. "We're still trying to find our niche."
Sunnyside (0-2) hosts West Valley this coming Thursday, and a couple of days off will be welcome for the Grizzlies, who Guevara said have a couple of injured starters.
Grandview (1-0) will compete this coming Saturday in Othello.