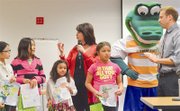 Sunnyside Community Hospital will pay the Sunnyside School District $1 per year as per a lease agreement approved by the Sunnyside School Board last night.
That lease agreement is for use of the newly constructed John Hughes Student Health Center.
Superintendent of Schools Dr. Rick Cole said the agreement is in keeping with the partnership between the school district and the hospital.
"The school district will act as the landlord and the hospital will manage services (at the student health center)," he said.
Sunnyside Community Hospital CEO John Gallagher said the hospital is "...excited to partner with the district to provide primary care to students."
He anticipates health care at the student center will be administered by a physician's assistant or nurse practitioner, as well as nursing staff.
The primary care will be centered on health concerns such as sports physicals, preventative care, weight loss or diet and other health care concerns, Gallagher said.
Cole said the Sunnyside School District will not be managing the services because the district is not a health care provider. The district doesn't have the ability to bill for services.
"The hospital has the ability to manage services at the clinic," he said.
Gallagher, after the Sunnyside School Board meeting, told the Daily Sun News that it is not yet specifically known how the health center will be staffed.
He said staffing levels have not yet been determined. "We are still in the development phase."
Gallagher said the hospital is working with the school district to determine which services will be provided.
The lease agreement approved by a 5-0 vote by the school board last night gives the hospital the right of first refusal in the event that the district is seeking to sell the center. The term of the lease is for 10 years and will automatically renew for additional 10-year terms unless either the hospital or the school district provides written notification of termination 90 days prior to the expiration of a lease term.