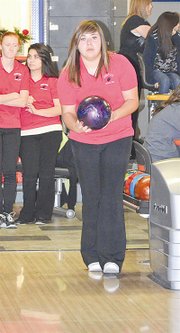 In early December 2012 the Selah High School girls bowling team ran roughshod over the Sunnyside Lady Grizzlies at Yakima's Minda Lanes, claiming a 4-0 whitewashing. Yesterday afternoon on their home lanes, the SHS bowlers got their revenge, fashioning a 4-0 sweep of their own against that same Viking squad.
For Sunnyside, which posted a 1-10 record in its first 11 matches of the season, Thursday's victory was its second straight, having knocked off Eisenhower by a 3-1 score this past Tuesday.
Although it was a true team effort on Sunnyside's part that got the job done yesterday afternoon, junior Johanna Chumley laid the groundwork for the Lady Grizzlies. She rolled a match-best 337 two-game series to spearhead Sunnyside's charge against the Vikes.
Her four Lady Grizzly teammates stepped up big, however, adding two-game series that ranged from a 266 to a 292.
In Thursday's opener, a seven-pin squeaker that went Sunnyside's way by a count of 689-682, senior Shantana Schneider tossed a team-best 166 for the Lady Grizzlies. Chumley was nipping on her heels with a 158, followed by Brianna Esqueda and Maria Casas with efforts of 136 and 128, respectively. The 101 shot by Adriana Lopez closed out the first-game scoring for Sunnyside.
In the game-one loss Selah received a 155 performance from junior Mikayla Ball, with Viking teammate Emily Imberg six pins back at 149. The three other Selah bowlers' scores ranged from 119 to 131.
Game two was never in doubt, as Sunnyside tallied an 82-pin advantage (765-683). Chumley's 179 was tops for Sunnyside. The Lady Grizzlies also got a solid 165 effort from Lopez, as well as individual scores of 149, 146 and 126 from Casas, Esqueda and Schneider, respectively.
In the losing cause in game two, Ball and Imberg again were Selah's leaders, each rolling a 170. No other Viking could throw anything better than a 123, however.
Sunnyside clinched the match yesterday by winning the first of the two Baker games, 165-136.
In Baker bowling, instead of having all five girls on each squad roll complete games of their own, the team members piece together a single 10-frame score, alternating shots.
The Lady Grizzlies applied the icing to the cake, making it a 4-0 sweep over Selah, via a 130-121 win in the final Baker game.
The final match of the 2012-13 regular season schedule for Sunnyside (3-10) is next Tuesday, Jan. 15, at Rodeo Bowl in Ellensburg against the Bulldogs. The District playoffs begin a week and a half after that.