Tuesday, February 5, 2013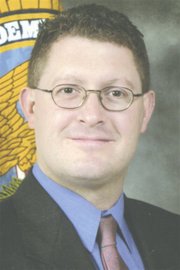 Sunnyside Deputy Police Chief Phil Schenck has applied for the position of chief in the second round of applications that closed last week.
"I received a lot of encouragement from community members to apply," he said.
Schenck did not apply for the position during the first round of applications last December. The city restarted the application process after one of the final two applicants accepted a job in another city.
The city received four applications by the Jan. 31 deadline, not including the finalist from the previous round. The five applications will now be screened and ranked by local police chiefs before the hiring process continues.
Interim City Manager Frank Sweet said he hopes to get Yakima County Sheriff Ken Irwin and Kennewick Police Chief Ken Hohenberg to assist in the process again.
Sweet said a timetable for the hiring has not yet been set, but mentioned the possibility of community input at some point.
In the meantime, Schenck will continue to lead the Sunnyside Police Department in his role as deputy chief.
"Sunnyside is a great community," said Schenck. "I'd like to stay here."