Wednesday, December 18, 2013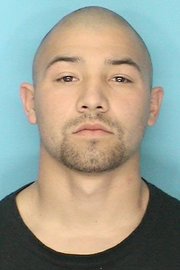 GRANDVIEW – Miguel Angel Martinez, 21, of Grandview is being sought by Yakima County Sheriff deputies in connection with the murder of Carmen Johnson, 20, of Mabton this past Sunday morning.
An arrest warrant has been issued out of Yakima County Superior Court for Martinez on charges of second degree murder. Investigators are seeking public assistance in locating Martinez.
Deputies stress that Martinez should be considered armed and dangerous. Anyone with information concerning the case or the whereabouts of Martinez is asked to contact the Yakima County Sheriff's Office at 509-574-2500.
Johnson was one of two people shot at a party early Sunday morning, Dec. 15, near Grandview. Another unidentified shooting victim was treated for non-life threatening injuries at Sunnyside Community Hospital.