Tuesday, December 17, 2013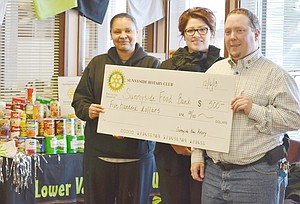 The season will be a bit brighter at a local food bank thanks to a partnership by the Lower Valley Credit Union and the Sunnyside Noon Rotary Club.
Yesterday, Monday, the credit union contributed more than 100 lbs. of non-perishable food items to Sunrise Outreach. At the same time, the Rotary club presented a check of $500 to the food bank.
Both presentations took place at the credit union's Sunnyside branch.
The food items were donated by employees from all three Lower Valley Credit Union branches as part of its "Beans for Jeans" campaign.
The effort went from mid-September to mid-December, in which credit union employees were able to wear jeans to work on Friday if they brought in five cans of food.
"Needless to say, employees enthusiastically supported this opportunity!," said Ellane Jepson, director of operations for Lower Valley Credit Union.
She noted that new and existing members of the credit union became involved as well. By donating five cans of food or other non-perishables they could qualify for a special "IMAGINE IT. DO IT." t-shirt commemorating the upcoming construction of the newest credit union branch office in Sunnyside.
"There is such a great need in our area and we all should do what we can to help out, especially during this record-cold Christmas season," said Suzy Fonseca, Noon Rotary president and president/CEO of the credit union. "Everyone needs something warm to eat!"
Fonseca notes that every week since October, Rotarians have donated funds for the food bank effort, resulting in the donation of $500.