Tuesday, December 17, 2013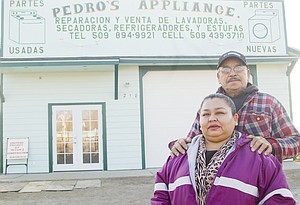 MABTON – Longtime Mabton residents Gregorio and Marcelina Bustos are celebrating the culmination of a 17-year dream to own their own business.
After months of construction and preparations, the couple held a grand opening earlier this month at their new shop building at 218 North Street in Mabton.
The Pedro's Appliances building for the small engine business is a far cry from the conditions in which Bustos had worked for the past four years.
The construction of his new insulated, heated and air conditioned shop replaces the detached building outside of his North Mabton home.
The old work area was always either too hot in the summer or freezing in the winter, explained Mrs. Bustos.
"Our new building is so much nicer, cleaner and better for his health," she said.
"I won't have worry about him working out in bad weather," she said.
Not only is the new appliance repair shop warmer, it has a lot more room for the couple's surplus of parts and appliances, all in various stages of repair.
Bustos specializes in retrofitting small engines for refrigerators, washers and dryers, which he then resells. He also maintains a supply of new and used parts for the do-it-yourselfers in the community.
Earlier this year, after several years of waiting, Bustos was approved for a $50,000 loan to build the shop in a vacant lot next to the couple's home.
Bustos' efforts to build an enclosed shop and to launch his business were further aided by his participation in the Rural Community Development Resources (RCDR) training program for small businessmen.
During the past year, the repairman and his wife have taken financial management and record keeping classes through RCDR.
According to Maria Rodriguez, a RCDR business resources center spokesperson, the trainings energized the couple, giving them confidence to qualify for the necessary loan.
Bustos said, "I am very thankful to RCDR for believing in me. Now I can do my work inside a heated shop year round."
Mrs. Bustos said the shop is also a legacy to their five children.
"It is named for our son Pedro, a licensed electrician," she said.
"We hope he will someday take over the family business," she explained.