Tuesday, December 17, 2013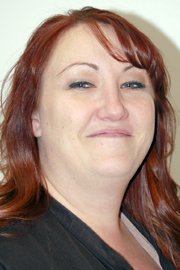 Age: 31.
Spouse: Michael.
Children: Two, boy and a girl.
Occupation and place of work: Instructor at Sunnyside Beauty Academy.
My favorite part of the Yakima Valley is… The courtesy of the locals. People hold doors open for you.
When I was a child, I wanted to grow up to be... Veterinarian.
First job I ever had was… Babysitting, paper route, odd jobs for neighbor, earned enough for my first car.
If a movie was made of my life, the actor/actress I'd want to play me is... Reese Witherspoon.
The best gift I ever received was... Both of my children.
The best piece of advice I ever received was... Don't go to bed angry.
My favorite dessert is... Grandma's peach cobbler.
One of my most memorable moments, besides getting married or having children was... Graduation from high school and beauty school.
If I could witness any event past, present, or future, I would want to see... My brother's wedding.
I'd love to learn how to... Speak in sign language.
The furthest I have been away from home is when I went to... Phoenix, Arizona.
My favorite leisure activity or hobby is... Reading.
If I didn't have to worry about money, I'd spend my time... Traveling. I want to go to Scotland and lots of other places.
The one word that best describes me is... Loud.
If I could change one thing about myself it would be... To not have such a quick temper. I'm too quick to anger.