Friday, December 13, 2013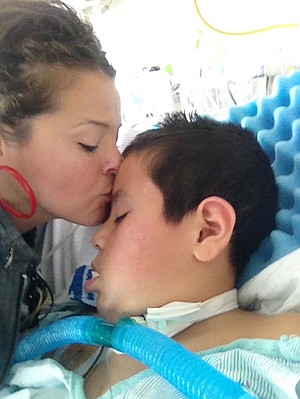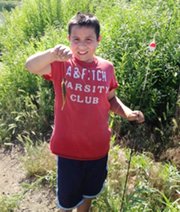 Amy Gallardo kisses her nephew, Carson, while at Harborview Medical Center in Seattle. The 11-year-old has been in a coma since this past July. At left, Carson Gallardo is pictured here as a happy young man, enjoying his life and family. Those who would like to help the family with the mounting medical expenses are asked to stop in at Yakima Federal Savings & Loan in Sunnyside.
For the family of 11-year-old Carson Gallardo, the past few months have been trying.
The youngster suffered a brain hemorrhage on July 24 and has not yet come out of a coma.
Gallardo, according to his aunt Amy Gallardo, had a large arteriovenous malformation (AVM) rupture. He has had a brain AVM since he was born.
"A brain AVM is an abnormal connection between arteries and veins…it is typically congenital," said Amy.
She said many do not know they have an AVM until they experience headaches or seizures.
Amy said her nephew's mother, Christina, has been by his side since he suffered the rupture.
"Carson's three siblings have not only been without their brother, but they have been without their mother, as well," said the aunt.
She said Christina was a management team member at the Sunnyside Bi-Mart store. The store was able to provide her with family leave, but that has run out.
"Carson has been in the hospital in Seattle," Amy said, stating the medical bills and lack of income has placed a financial strain on the family.
As a result, there have been several fundraisers to help with the costs of Carson's medical expenses and to help the family during this time.
His aunt said there have been a number of medical procedures for her nephew over the years to alleviate some of the pressure from the AVM and to lessen the risks of a rupture. However, this past July the family's life came to a screeching halt when their fears were realized.
The Gallardo family isn't losing hope, however. They have rallied together to support one another through this terrible moment in their lives, according to Amy.
Those wishing to help the family with Carson's medical bills can do so by visiting Yakima Federal Savings & Loan in Sunnyside.