Thursday, December 12, 2013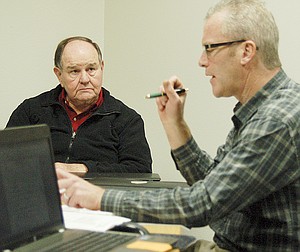 GRANDVIEW – The Port of Grandview held its final meeting of the year this past Tuesday, approving its comprehensive plan and preparing for 2014.
The comprehensive plan covers four areas: property, marketing, partnership and business management. The port made progress in 2013 on all four areas and plans to build on the success in the next year.
Property the port has prepared includes the Wallace Way and Byam business parks. The port has developed property ready for sale and has acquired new property. Property near the Byam development was recently purchased and is in the process of being annexed to the port's business park.
The port also worked on marketing efforts in 2013, including building an entrance to the Byam business park and adding signage on the freeway. The port also has been represented at trade shows and commissioners plan to attend more in 2014.
Yakima County Develop-ment Association President David McFadden gave a presentation at Tuesday's meeting, encouraging the Port of Grandview to join the association and the Port of Sunnyside at a major trade show in California in 2014.
Other marketing concerns that the port plans to have finished by the end of 2013 include updating the website and designing a new logo. The logo was a point of discussion at the meeting and commissioners picked a favorite from six potential new designs.
Plans for 2014 include continuing marketing for Port of Grandview companies through signage and other methods and encouraging new business in the area.
The commissioners also plan to continue working on partnerships, like their relationship with the Yakima County Development Association. The port hopes to forge lasting bonds with local DECA and FFA groups at the high school and with YVCC and WSU. The port also has ties with economic development groups and organizations.
The final area of focus in the comprehensive plan is the management issue. The port plans to maintain its financial stability, including its bond rating through Standard and Poors of AA- or better. In the next year the port plans to develop a policy and procedure manual. The port also wants to develop a property pricing structure that relates to the job creation and tax contribution of potential customers.
McFadden may have summed up the port's plan best when he reviewed it as the meeting started last night.
"I think you guys are all set," he said.