Wednesday, December 11, 2013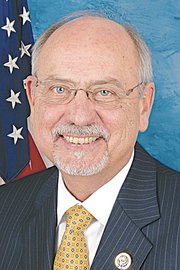 For nearly 50 years, the United States Capitol Christmas Tree has been a holiday tradition in Washington, D.C. I'm proud to say that this is the second time a tree from Washington state has been selected as the Capitol Christmas tree.
Each year, the Capitol Christmas tree, or "The People's Tree," is carefully chosen from one of the U.S. Forest Service's nine national regions. The ideal tree is 60-90 feet tall. It must be healthy, have good growth and density, and be rich in color. The tree must also be straight and shaped in a perfect cone.
This year, the Capitol Christmas tree is a stunning 88-foot tall Engelmann spruce, which traveled more than 5,000 miles from the Colville National Forest to Washington, D.C.
Earlier this month I had the pleasure of joining the Speaker of the House, my colleagues from Washington state and Colville first-grader Giovanni Gaynor in lighting the Capitol Christmas tree. The tree is decorated with handmade ornaments depicting this year's theme "Sharing Washington's Good Nature," by more than 5,000 school children from across Washington state. The Capitol Christmas tree is located on the west lawn of the U.S. Capitol and will be lit each night until the new year.
Seeing this magnificent tree from Washington state on national display reminds us of how lucky we are to have such abundant natural resources. This grand tree is a symbol of the towering forests from which it comes and it reminds us that healthy forests support the planet.
Of course, our state is also home to a number of Christmas tree farms, ensuring that each year when the holiday season arrives there are plenty of fresh-cut trees available.
Appropriately named the Evergreen State, it should come as no surprise that Washington is a leading producer of Christmas trees. Every year, our famous evergreens find themselves on their way to homes across America from Hawaii to Florida, and twice now to the front steps of the United States Capitol.
Our state is proud to share its impressive forestry heritage and its good nature with all Americans by providing this magnificent tree for our nation's capital this Christmas.

Visit my website at www.hastings.house.gov for photos and a video of the tree lighting ceremony.
‑ U.S. Congressman Doc Hastings (R-Pasco) represents Central Washington's Fourth Congressional Dist.