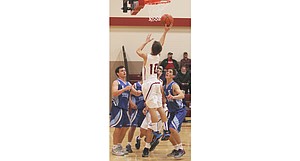 BICKLETON – The Pirates were dealt their first defeat of the new season by a club team from Australia, visiting on a tour of the United States.
The visiting Titans won the game by a score of 57-39 against their Bickleton hosts.
"We hung with them the first half," said Bickleton Boys Basketball Coach Jerry Roberts. "But had a weak second half due to some key turnovers and could not buy a bucket."
The Pirates top scorer was Nathan Powers, who dropped in 11 points, including a three-pointer, for Bickleton. Clint Strader bucketed nine points for the Pirates, three from the charity stripe and the rest from behind the three-point line.
"(It was a) great experience with the Aussies," said Roberts. "Nice bunch of boys. They had some real talent on the team. I think we came away learning several things about our team and that is success in any arena."
The Titans and the Pirates were fairly even for most of the game, but the Australian team went to the free throw line more often, hitting 14 of 27 tries compared to Bickleton's four out of seven attempts.
"I wish the Aussies the best as they continue to Portland on their tour and would recommend everyone to take the opportunity to host a team from another country," said Roberts. "A lot of new friends were made and many memories also."
Bickleton next hosts Zillah tomorrow, Dec. 10.
‑ Laura Gjovaag can be contacted at 509-837-4500, or email LGjovaag@DailySunNews.com