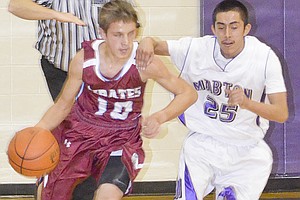 MABTON – The Bickleton varsity faced off against the Mabton Viking JV and came away with a 66-40 victory last night in the first regulation-length basketball game of the season for the Pirates.
Leading the Bickleton offense was Clint Strader with 14 points, five rebounds and three steals. Pirates Kyle Underwood and Nathan Powers each bucketed 12 points.
"The boys played very hard and the best part of the game for me was how they played as a team," said Bickleton Coach Jerry Roberts. "With everyone scoring, we had a pretty balanced effort and that is only going to make us better."
Powers also led the team in rebounds with a total of seven and drilled the team's only three-pointer of the night. Joe Cardenas pulled down six rebounds off the boards and was the Pirates top thief with six steals.
The Pirates outshot the Vikings, going 23-for-54 from the floor to Mabton's 13-for-40 effort. Bickleton also managed making 13 of 19 from the free throw line and out-rebounded Mabton 44 to 26.
Bickleton will be hosting an Australian club team tomorrow, Dec. 7.