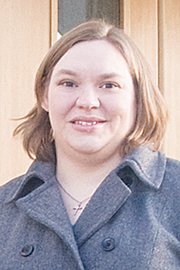 Imagine gathering in a darkened stone sanctuary in early December. Outside, the sun is just setting. Inside, the electric lights are dimmed to a warm glow, matching the candles in the worship space.
Worship begins with a responsive chant and a hymn in praise of light, then a reading of the Annunciation—Gabriel's visit to Mary.
The congregation begins singing:
Let my prayer rise up like incense before you, the lifting up of my hands as an offering to you.
Then, out of a distant corner of the sanctuary, a solitary soprano voice, clear and strong:

O God, I call to you, Come to me now; oh, hear my voice when I cry to you.
("Let My Prayer Rise Up," Evangelical Lutheran Worship, # 232)
This was my first experience with the Holden Evening Prayer Service, my first year at seminary. We used the service only once a year - on the evening of the last Thursday of the autumn term. My worship team had been in charge of planning the services that week, and we had chosen Beth from our group to sing the leader's portion of Marty Haugen's sung version of Psalm 141.
I knew it was Beth, but for a few moments there, I had goose bumps running over my skin thinking that it was the voice of Mary singing out of the darkness, singing a prayer to God at the joy and fear of what she was about to undergo.
I am a Lutheran, as many of you reading this know. We Lutherans, like many other Protestants, generally do not pay very much attention to Mary outside of Christmas. Even then, we tend to give her only a cursory glance.
I know I never reflected very much on Mary, the mother of our Savior, until I got to seminary. Sure, I considered her role from an intellectual standpoint, but not from a deeper emotional and spiritual one.
In seminary, we talked about her much more than I ever had before. We were studying how to engage in ministry within a mixed Hispanic-Anglo reality, after all. (Plus, two of my professors were of Mexican or Mexican-American descent.) And Mary's importance to the Hispanic community is deeply ingrained in the culture, whether an individual or family is Roman Catholic or not.

Still, even then, my association with the Virgin Mary remained far more in my head than in my heart until my final year at seminary, 2009: the year my eldest child was born. As I have told many of you before, becoming a parent made the Christmas story real for me in a way I had never experienced it before. That year, at my daughter's baptism, I heard for the first time a traditional Basque carol that has since become one of my favorite Advent songs:
The Angel Gabriel from heaven came with wings as drifted snow, with eyes as flame; ("Gabriel's Message," ELW # 265.
If you would like to hear it, the artist Sting has a beautiful rendition you can find online.
As I listened to these words that day, sitting with my family and my daughter's baptismal sponsors, I remembered my feelings when I found out I was pregnant. As with many couples, my husband and I had been hoping and praying for a child for quite a while, but when I found I was pregnant, I was scared. Happy, too, but very afraid of what was to come and feeling so unready - and I learned the news from a tiny plastic stick, not from a winged-being of frightening beauty and majesty. I knew our lives as a couple were about to change.
Mary knew that not only her life was about to change, but the whole world! There must have been some trepidation for her, surely, but her faith in God and her hope for the future the Holy One ordained over-rode all other emotions. Her joyous response is one of the most beloved poems of the Christian tradition.
Her Magnificat so inspires and encourages our faith, it has been translated and transcribed into numerous hymns and songs throughout the centuries; I count 12 just with a cursory glance to the song book I am using.

My soul cries out with a joyful shout that the god of my heart is great, and my spirit sings of the wondrous things that you bring to the ones who wait. You fixed your sight on your servant's plight, and my weakness you did not spurn so from east to west shall my name be blest. Could the world be about to turn?My heart shall sing of the day you bring. Let the fires of your justice burn. Wipe away all tears, for the dawn draws near, and the world is about to turn. ("Canticle of the Turning," ELW # 723)
Parents know when they learn of the impending birth or adoption of their first child that their lives will be forever different. In the same way, we know that the coming of Christ Jesus means that all of our lives will and shall be forever different. We know in our minds that this is true, but how good are we at
letting this joyous and frightening news enter into our hearts?
Thinking about Mary, a real mother with a real son, makes the flesh of the incarnation as awesome and undeniable as looking into the eyes of our own children. What a strange and wonderful way for God to act! What a miracle for God to come and dwell with us as Emmanuel!
Our salvation for all time begins as a tiny flutter in Mary's womb! As we begin our Advent journeys this year, let us open our hearts to the Prince of Peace and pray with Mary:
"My soul shall laud and magnify God's holy name."… Gloria! (ELW #265)
‑ Rev. Katrina Walther is pastor of Sunnyside's Our Saviour's Lutheran Church.