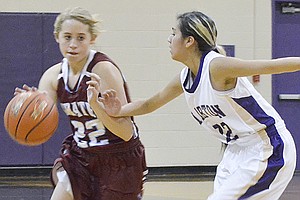 MABTON – Lindsay Brown recorded a double-double by canning a team-high 14 points and scraping a game-best 20 rebounds off the glass. Unfortunately for Bickleton, it wasn't enough.
The BHS varsity girls basketball team, in its first official game of the 2013-14 season, fell to the Mabton JV last night, 50-35.
The Lady Vikings junior varsity squad got double-digit scoring performances from Caitlyn Rojos with 15 points, and from Riley McCallum and Lizbeth Martinez with 13 apiece.
Mabton jumped to an early lead on the visiting Lady Pirates, forging an 11-3 first-quarter advantage. Bickleton cut the deficit to just 21-17 by halftime.
A quick, second-half start on the part of the JV Lady Vikes – piecing together a 17-9 run in the third quarter – sewed up the victory for the home team.
Bickleton Coach Emily Barnhart came away from Thursday's non-league contest pleased with what she saw from her players underneath the boards.
"The team as a whole had a great rebounding game," she said, noting that besides the 5'10" Brown's 20 rebounds another 16 were collected by 5'6" senior Sydnie Whitmore.
The team's downfall proved to be its failure to get the ball to drop through the hoop. Barnhart said her club only shot at a 23 percent clip.
And, said Barnhart, "We had too many turnovers as well, and weren't able to control the pace of the game like we would have liked."
Bickleton's home opener of the season is slated for this coming Saturday, Dec. 7, against a touring team from Australia. Next Tuesday, Dec. 10, the Lady Pirates varsity is scheduled to take on the visiting Zillah JV.
Bickleton varsity - Lindsay Brown 14, Lacy Cannon 2, Annie Lindsley 0, Hali O'Banion 2, Sydnie Whitmore 3, Emily Hanson 0, Hannah Delbrook 0, Katrina Cardenas 4, Heather Goodnight 5, Priscilla Macias 0, Kira Harvey 5, Jayce Alexander 0
Mabton JV – Caitlyn Rojos 15, Riley McCallum 13, Lizbeth Martinez 13, Abigail Garzon 0, Yolanda Penaloza 2, Luz Sanchez 0, Rocio Campo 4, Alexis Herrera 3